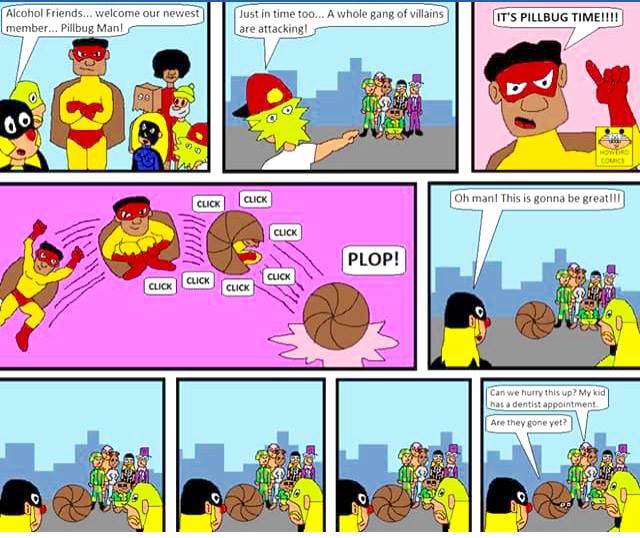 Howeird Oliver – Alcohol Man
One of the things I like about the internet is that, unlike in small town bufu nowhere,  there's always something interesting to find. I now know where to go to find the American Cash Register Museum. That is completely useless knowledge to me, but there you go. Thanks Internet! Another thing I ran across was the adventures of Alcohol Man. Words don't do it justice. In one episode, he refuses to enter an orphanage to save the children from a fire because there's a "No Alcohol on Premises" sign.  This strip is gloriously demented. Each cartoon is self-contained. There's no ongoing story, just more bonkers, beer fueled, adventures.
Created by Facebook Phenom, Howeird Oliver, Alcohol Man regularly appears in many comics related web pages. I was lucky enough to catch Howeird while he was reasonably sober. Keep reading and enjoy the fun.
Take us back to the heady days of yesteryear and tell us how Alcohol Man came to be.
I was working at a store in Milford CT as a dishwasher one of my coworkers would call me Dishmael … The hero of dishwashing. So, everyone else came up with hero names for themselves. This one guy who drank all day long said who am I? I said you're Alcohol Man. Everyone laughed and I realized that would be a great character. I was already drawing my comic strip, the ill-begotten Upstarts, so I added him as a character. I didn't want to use his appearance as Alcohol Man's look so I took the character of me as Dishmael and made it into Alcohol Man. The black and green color scheme is because I had black and green rubber gloves for my job.
I intended him to be a real superhero. But let's face it, how can he be? The strip I was already writing was comedy, so Alcohol Man became one too.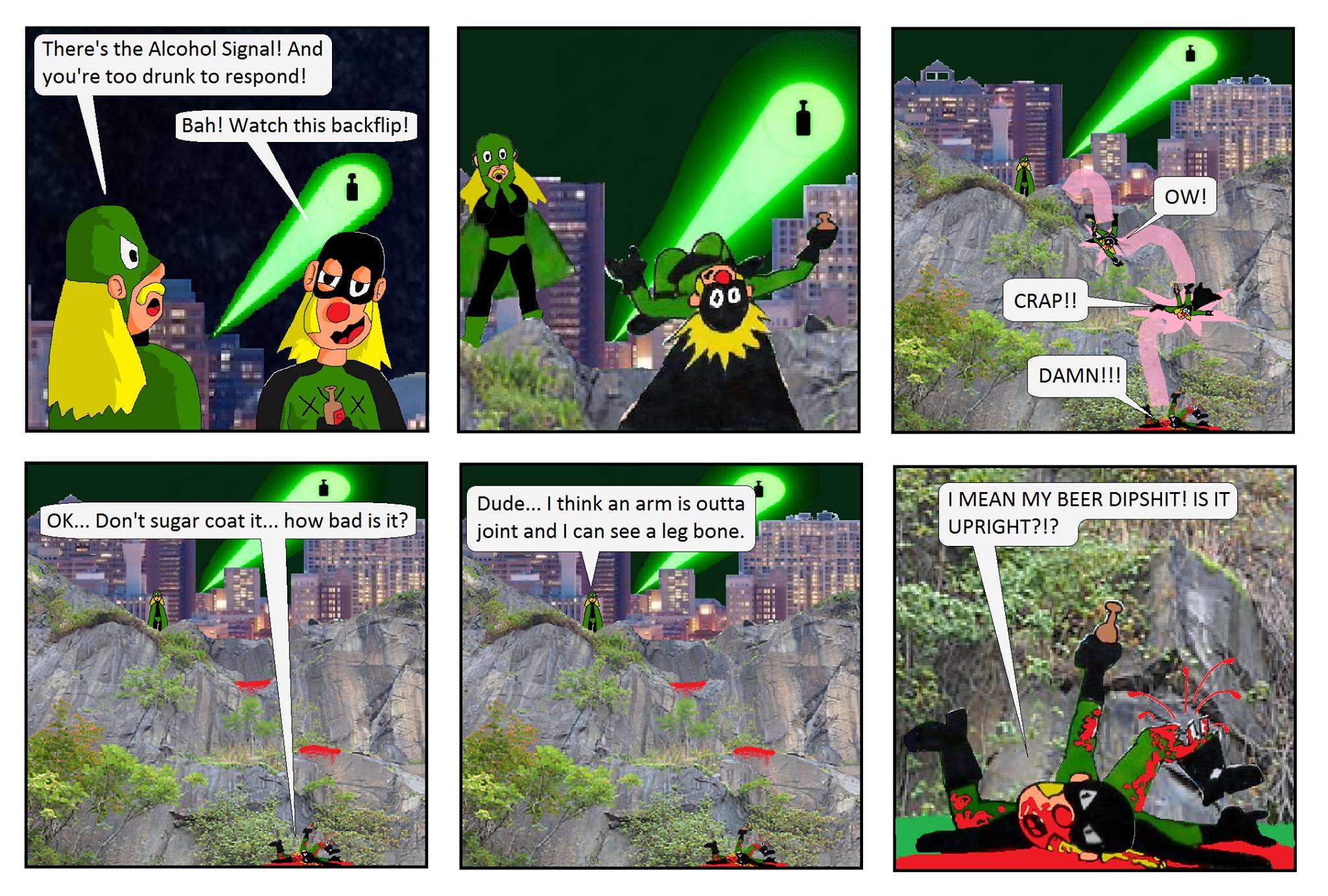 What about his amazing sidekick, Designated Driver?
Designated Driver is based on a coworker from a different job. I left the dishwashing job funnily enough because the guy who inspired Alcohol Man got us both fired. Desi D is just a necessary character. Who else could be Alcohol Man's sidekick? At first, I drew AM as driving the Alcohol van but realized if you're gonna have a designated driver he's got to drive. Also, DD drank on the job too at first but over time I made his story into him being a lead foot who is court ordered to be AM's sidekick in place of paying his extensive speeding tickets.
You leave no gender unbruised in this comic. Tell the class about Alcohol Woman.
Alcohol woman was originally based on another coworker who came to work with two black eyes after causing a bar fight the night before. I said to her, "You're Alcohol Woman." Then I made her colors black and blue in honor of her eyes. She said "Very funny." Alcohol Man was created in '95 and Alcohol Woman appeared just two years later. But I never really drew her until my last girlfriend, and I, broke up. Through her, and one of her horrible friends, I finally had a personality to give Alcohol Woman.
I'm beginning to think it's not safe to hang around you. What inspired the rest of your rogue's gallery?
Most of the characters are based on real people. Pillbug Man is based on my mom. She was sitting on the couch with a blanket over her, curled up and saying it's cold. I said you look like a Pillbug. We laughed and once again I thought "That would be a fun character." His only move is to curl up into a ball and wait out the conflict. I based his appearance on an ex-NFL player who was in a Swiffer commercial.  I wanted him huge and intimidating only to find out he hides during a fight.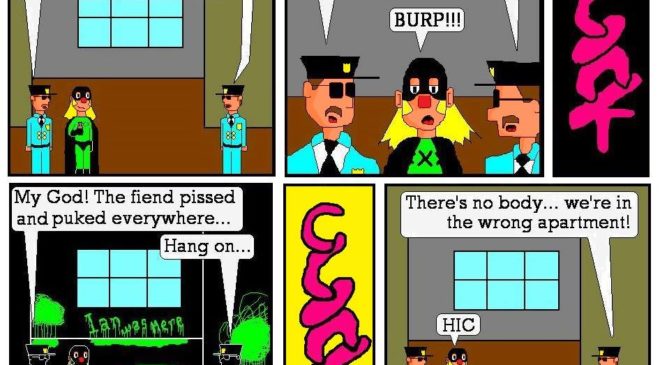 Besides the people you've met, what else inspires Alcohol Man?
Alcohol Man's personality is based on Adam West's Batman. There's a lot of the comedy and gimmicks. Also, Al Bundy from Married with Children. This is when AM has lost his temper. He's a just punch it kinda guy like Al Bundy. And me, his snarkyness is me.  Alcohol Woman's personality is based on my ex and her friends. All of the reality show bimbos like the jersey shore girls and the Kardashians etc. And Daisy Domergue from the movie The Hateful Eight. Her one black eye is a nod to that character.
Most of the villains are based on real people but I haven't really developed their characters much. The stories are never based on the villain, so they are interchangeable. The only one who is developed is the phantom of the rock opera. Although I am going to change his name to Lithagiest, which means Rock Ghost. He's based primarily on me. There is more of me in him than any other character. He is the only one other than Alcohol Man to have actual powers.
Follow Howeird Online for more adventures with Alcohol Man!