Jenni Gregory is the comic book creator of DreamWalker, Summoner, Abby's Menagerie, Rocs' Keep, Becky's Alien & others. She draws and paints comic books, fantasy, caricatures, birds, flowers and especially fun spooky things. She is an AVID photographer and space nut.
She grew up in Springfield, VA, moved to Laguna Hills, CA, went to BYU, Ricks College, Saddleback Community College, and University of Southern Mississippi .
She worked for over 10 years at Disney as a caricature artist while illustrating comics. She lives in Davenport, FL with her comic creating/book writing husband Barry Gregory, their three kids and a very big bad dog.
She constantly daydreams and firmly believes in all things magical and whimsical.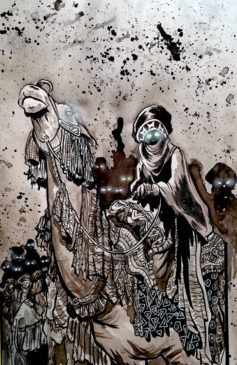 Believing is seeing.
Create frequently and often.
You can buy her creations for your very own on Indyplanet.us and Amazon.com:
https://bit.ly/2JOiKxq
https://amzn.to/2uMAswE
She also posts a lot on her facebook page jennigregory
and Instagram @jennigregory
twitter: @jennigregory
Interview With Jenni Gregory
When did you first decide that you wanted to create your own comics as a career?
I'd always loved books, drawing, painting and well…any kind of art process, really. So comics were right up my alley! BUT…I just never knew comics existed! My family never had them growing up and I just was never really around places where they could be found.
I started working as a freelance inker back in the mid-90's and I started thinking about trying to do my own books. I started with DreamWalker, then Rocks Keep, Abby's menagerie…one book turned into another issue, then another issue turned into a series, then even more stories starting wanting to be told and I've never wanted to stop!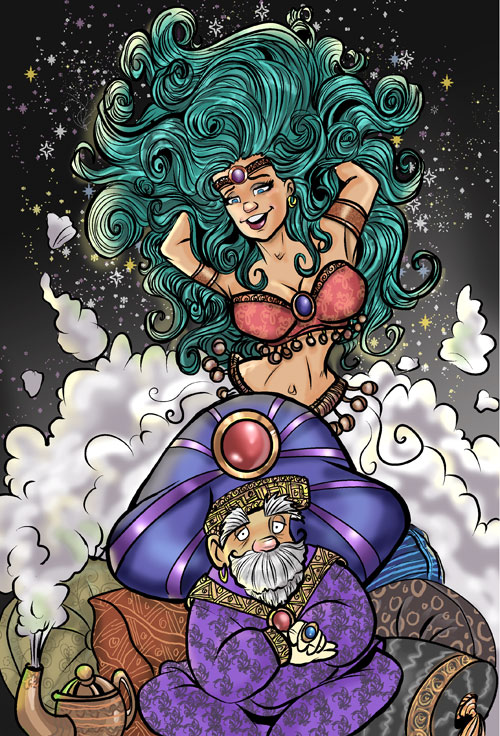 Who has had the biggest influence on you outside the comics industry, and how did they affect your life?
I have to merge the answer to this question with the next one because they flow together.
Who has had the biggest influence on your creative career, and how has that person changed your work?
~Easy and no doubt–my husband Barry Gregory! I'd never read, looked at or even really knew comic books existed until I met my husband, Barry. One person can totally change and influence your life in so many ways.
Barry always had a passion for comic books, grew up reading comics. Then he started writing them, being a colorist for major comic companies, then working as an editor, and without fail he kept trying to get me to read and be interested in doing comics. Then he started Ka-Blam Comic Book Printing which prints comic books exclusively.
But he was the one that took the time and introduced me to comics, and I was hooked! I started out freelancing here and there and then I wanted to tell my own stories and draw them!
He's also an influence on every aspect of my life. He's easily the smartest, kindest, most talented person I know. We've been married 28 years, work together daily as well as on comic projects and I love every, single, second.
Every single person has a story to tell. Every person, for good or bad, has something fascinating about them. A lot of times one snippet of conversation can change a story you've been working on, or make you think. It's the light bulb effect."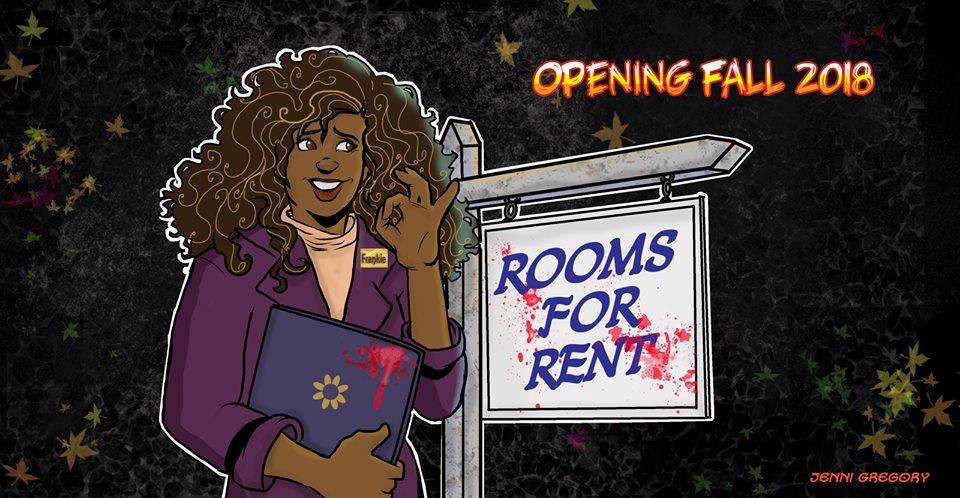 What do you do to recharge your creative batteries?
First and foremost–I read. Anything. From cereal boxes to magazines. Read. Without fail, every day.
I have a couple additional ways to recharge those creative batteries:
I take photographs. Lots and lots of photos. I think if I didn't have a family I'd love to be a photojournalist. I seriously love photography. From the history of photography, the various photographers, to framing a shot to manipulating the image in Photoshop. Yes, there are some similarities, but photography makes you think in different ways than drawing.
It also helps me to just go outside, put on some headphones and walk–get fresh air and look at things differently and just think.
Look at things that inspire you. Go to a museum. Read an art book. Browse art on Instagram.
I also love to just talk to people. Every single person has a story to tell. Every single person, for good or bad, has something about them that is fascinating. A lot of times one snippet of conversation can change a story you've been working on and change it or make you think. It's the light bulb effect.
I love to talk to kids and teenagers. How they view the world, situations…they are usually more than willing to talk once you get 'em going. And they say a lot of things that have wormed their way into my stories. Maybe it's the phrases or words they use–but listen to 'em!
I also take a break from storytelling to paint whimsical stuff. I've recently picked up acrylic painting again. This is different than panel to panel stuff. These paintings are pure fun and a bit of an outlet.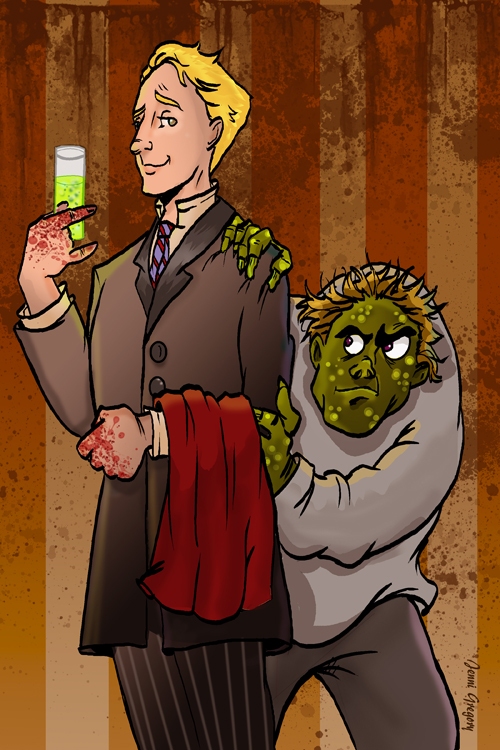 Describe your typical work routine.
First, I don't get to sleep much. Seriously. Not that I don't want to, I just don't have the time. Our day typically starts at 6:15-6:30am. We get the kids up for school, drop them off, then Barry and I head into work together.
My day job (yeah, I work a day job, too!) is I work at Ka-Blam Comic book printing. I also help run IndyPlanet.us. I also process all the orders, print and ship 'em.
Depending on which of our kids have what going on after school, I can be at the office anywhere from 9 in the morning until 7 at night or later. Most of the time things skew towards the later time. That's just how it goes.
What tools do you use to create comics and what makes them the "right tools" for you?
Oh man! How I LOVE art supplies!! I love to try new stuff out. I saw some glow in the dark paint recently and incorporated it into a couple paintings–and it WORKED! So experiment! Open yourself up to trying new things!!
I use Bristol board when I do full size comic pages. Most of the time I use Manga Studio for drawing (it's sooooo much faster!) then color in Photoshop.
I use Kolinsky #7 brushes to ink, Rapidograph tech pens, and quills to ink. I love quills.
I actually have a thing for pens. I seriously love pens and have been known to walk away clutching one or two on occasion.
I use a lot of different types of brushes from all kinds of brands for painting. Whatever looks good I'll give it a try.
What element of your work gives you the most personal satisfaction?
Getting a project done. Maybe it's a cover, maybe its a simple doodle. But learn to finish something–and let it go. Move on.
There was a meme a couple months ago that was floating around social media and I really took it to heart–"Finished, not perfect".
If you keep waiting until the perfect moment, or until you feel your art or writing or whatever it is you do is at it's most "perfect"–you're going to be waiting a very long time.
What has been the most rewarding project in your professional career – in or out of comics or other creative outlets – and why?
This year I got to do some art for one of the best comic book conventions around: PensaCon in Pensacola, FL (seriously, this is the most amazingly well-run show you can come across either as a guest or an attendee! GO!)
It was overwhelmingly cool to see my art on signs, displays, and on their BEACH TOWELS for the conventions.
I got to point my art out to our kids who came with us and I got a smile inside every time I saw some of my work. And this was particularly cool because Barry colored this piece. So it's got a lot going for it. That was probably one of the most satisfying and delightful things I've done career-wise so far. It'll be hard to top that experience.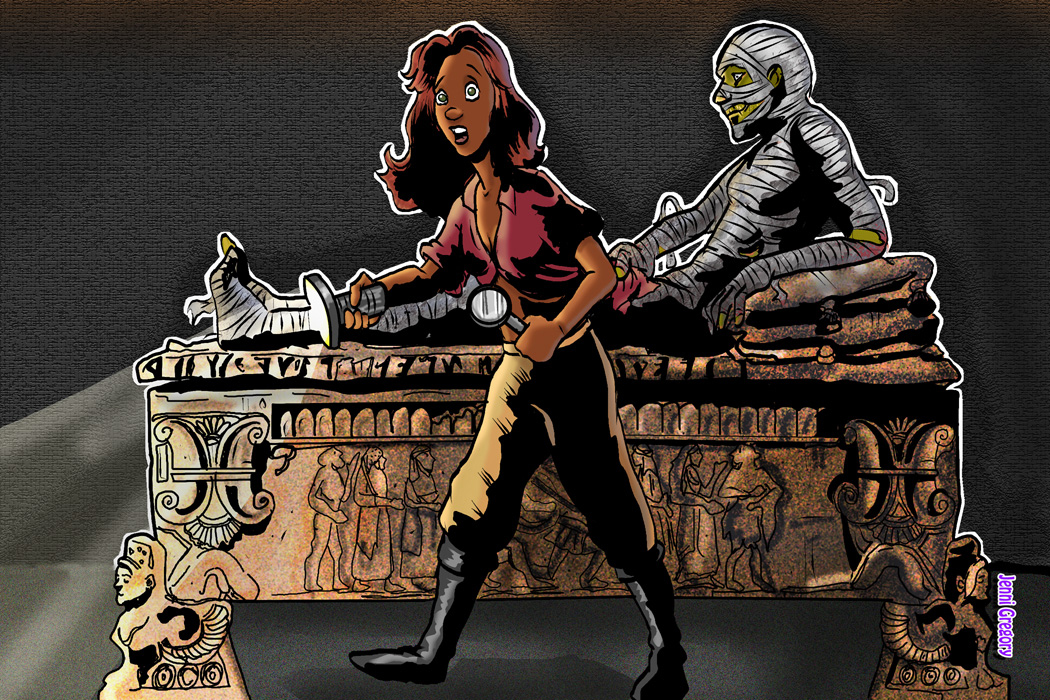 We've all met very talented newcomers who are trying to get their first professional projects. What's the best advice you've ever heard given to a promising new creator?
Don't give up if it's what you want to do. You'll find a way. Learn to take rejection…very, very well.
Do not be late on a deadline. No matter what. True story here: I was finishing up pencils on a 12 page story of a licensed character. First time I'd ever penciled a licensed character and I was pretty darn nervous (ok, yeah, I was totally scared).
Then 5 days before the project was due I rode my bike head/face first into a telephone pole (it was dark out, no helmet (big, BIG mistake) I had been advised not to, yes, he was right, I was wrong…long story, if you really wanna know ask me at a show and I'll show you some gnarly pictures!) I ended up with an obscenely swollen face, concussion, eyes swollen shut for 2 days, then my whole face turned black and blue but I finished that damn piece 2 days before it was due. And it hurt!
They never knew, but I had given my word I could keep that deadline and I did.
Oh, and be nice. Editors would much rather work with a nice person than a jerk with a pencil.