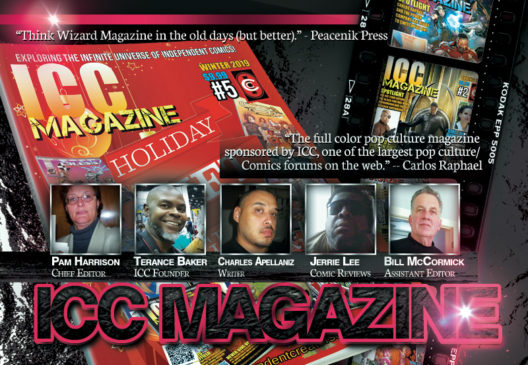 Pam Harrison, Editor in Chief
Bill McCormick, Assistant Editor
Contributors: Jerrie Lee, Terance Baker, Winston Jordan, Pam Harrison, Charles Apellaniz, Marcus Roberts, Bill McCormick
* * * * * * *
Worksheets and Schedules for ICC Magazine Staff:
We will begin utilizing this website exclusively for greater ease of content creation, editing, images and selection of web articles for upcoming issues of ICC Magazine, not the other way around as done previously. Going back and adding articles to the website retroactively after publication is a time-consuming process and is only effective if two or more of the Staff are involved in posting to the site.
Hello! Welcome to ICC Magazine, a web-based magazine with contributors and artists from all over the world, Exploring the Infinite Universe of Independent Comics!
Have you seen our Premiere issue yet? IT. IS. AWESOME. ICC Magazine is published by Sword and Labrys Productions and is on sale now in print or digital download on our website and at IndyPlanet.us. Watch this page so you can grab yours when it goes on sale!!
I am presently building the Independent Creators Connection Bookstore. In the meantime: Grab each and every issue of ICC Magazine right here.
Want to connect with us online? Want to suggest stories, spotlights, articles and interviews, promote your series on our website? Want to contribute articles and stories to our website? The very best articles will automatically be selected to print in ICC Magazine, giving you additional promo and exposure. Give our friendly Chief Editor Pam Harrison a friendly shout on her Contact email or click Submit To ICC Magazine! below. No files via Messenger on Facebook: they might get lost in the shuffle.