This guy's so hot right now it took two of us, working behind the scenes, to hold him down long enough to get an interview. John Jones, the human one and not the famous Martian Manhunter – which is spelled differently – has been kicking out eye popping 3D characters for over a decade. He began his career in an unusual fashion. Noting that his son liked Pokemon he began creating 2D playing cards with characters conceived by his son and, later, his friends. Early in this century he discovered 3D graphics programs and then nothing could hold him back. The world was soon festooned with a dizzying array of super beings and it was a better place for it.
He originally caught the public eye with his card game, VIGILANTE, which created a brand new universe of heroes and villains for people to learn, love, and enjoy. He then went on to create HEROES TCG which took his card gaming skills to a whole new level.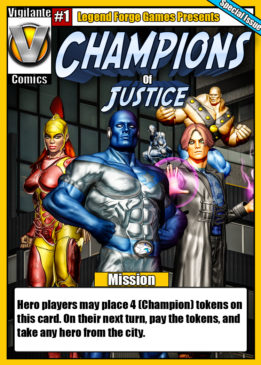 Heroes TCG is, on its surface, a simple game, yet it requires complex strategies to win. How much thought did you put into the theories behind the moves?
When I create the powers built into the game, I do indeed have visions of how I'd like game play to flow. In some collectible card based games, these are called combos. It is a strategy of getting certain cards together that synergize perfectly with each other to pull off some devastating maneuver in the game. I try to put a lot of thought into this synergy, but I'm hoping one day, players will devise their own combos and advanced tactics.
I'm working with a partner, Nelson Pearson, on a deck-building game. He and I met on ICC a few years ago and struck a friendship based on our mutual love of comics and art. We met in person the first time at GenCon in Indianapolis last year. And this past August, I traveled to Michigan to share a booth with him at Michigan Comic Con promoting the current iteration of our game. We are trying to appeal to two groups (of fans); comic lovers and game lovers.
Have you considered writing a "tips and tricks" manual to help new players?
I've never really thought of that. I could possibly write a high level manual for tips and tricks. But again, a hope of mine would be that players discover and eventually share things in their game play experience. In my head and even in my heart, I envision players coming up with different ways to achieve victory. I suppose in card game parlance, this would be metagaming; which is game play above and beyond the predetermined rule set. It's surely not breaking the rules, but it is definitely bending them.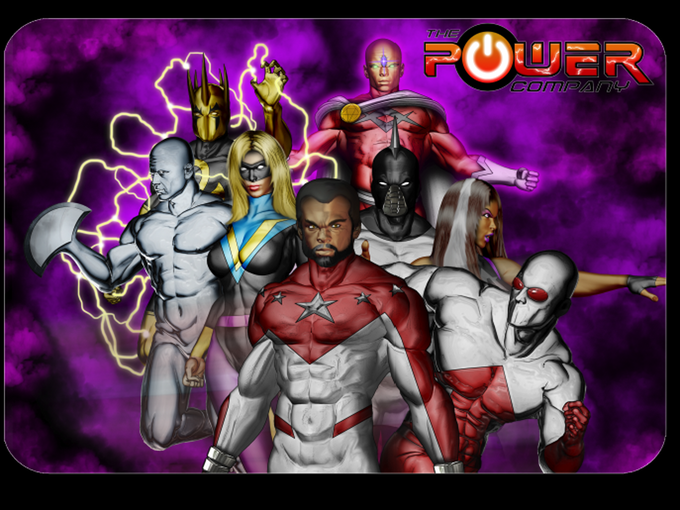 The tapestry of characters is rich and diverse, where did you draw your inspirations from?
Being a member of ICC, I've seen quite a few posts from members going, "This is a character I created with I was in 8th grade." I too have a few characters based on childhood characters I've created. One thing I will admit to, unlike many members of ICC, I don't have rich back stories for most of my characters. I have probably several hundred I've created. When I first started creating my game, I needed heroes and villains, and I needed them in a hurry. Most of the times, I would think of a name, and create a character around that name. I used to carry around a tiny notepad with me, so if I ever got inspired I could jot down some quick notes. When my children were smaller they were a huge source of inspiration too, I would get the, "Dad, how about a character with….." and I would go from there. I even got some of my kid's friends and schoolmates to help out years ago. Those were such fun times.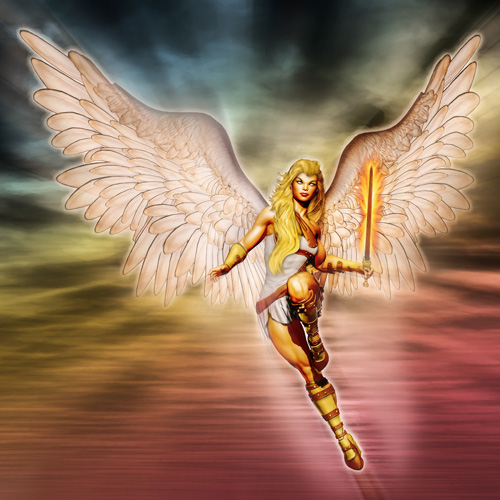 The character art is as detailed as can be. Do you use any special software to create it?
I use a myriad of software for my art creations. Some of the software, I use in a way it wasn't meant to be. Back in the early days of creating characters, I would just draw on paper, ink it, then scan it in and color it. It wasn't the best art for sure, but when I shrunk it down to a two inch by two inch square, it really did not look that bad. I then discovered a program called Poser, and that started my journey into 3D.
I go back to those early Poser days now and just cringe. I rarely ever even launch Poser any more. I've switched to DAZ3D, but here's where it gets tricky. I don't render in DAZ. I create a base model and export it. If I need any sort of items or equipment added to the character. I create them in another 3D program called Autodesk 123D Design (Sadly, it is a discontinued free program, but I still use it almost every day). I use another free called SculptGL to put the character model, and the 3D pieces I've created all together. Once I have it close enough, I export it once again. I then import the model into ZBrush Core and render it there. I end up with a black and white render. The next step is on to Photoshop where I spend 90% of my time finalizing that character.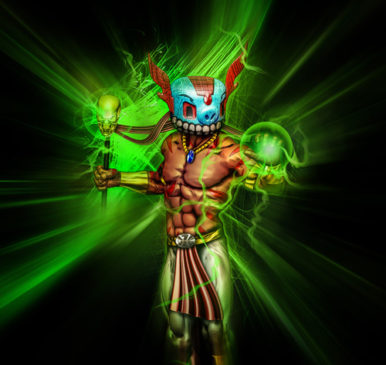 I use other programs as well, but all of those listed above are my main go to programs. Other programs and plugins to check out for aspiring artists are: Amberlight, Flame Painter Pro, Painter Particle Shop, PD Howler (I actually can't stress how good this program is, and it's so affordable. This program is truly a hidden gem for any artist), Filter Forge, the Topaz Lab Suite (I use Topaz Lab Impressions to achieve a more "painted" like look), Alien Skin Eye Candy, and a host of filters and plugins by Flaming Pear (in fact, there's a free filter I use called "Ghost" in almost every one of my images).
Every artist has one kryptonite client. What would you say is your most frustrating commission client? Type, that is, not names.
The client that frustrates me the most, is the one who is never happy. They are usually the ones that give me reference materials, and even if I follow make my work exactly like what they provided, I get, "Oh, that artist did the buckle wrong, it should be "this" and not "that." They are the client that asks for perpetual revisions for seemingly minor things. Being a purely digital artist, I probably have a slight advantage over pen-to-paper artists where I CAN make the desired corrections. Since I work in Photoshop. I can give updates to a client as I go, and I can save off previous versions if I have to revert something. I can even make a layer in Photoshop to correct something and keep the original layer safe before I proceed further.
One thing I would like to add is the best client. The absolute best client is the one that appreciates the artist and the art itself. I've had many ICC creators that have an idea for a character, but they don't have the desired talent to bring it to life. There have been times, I get a sketch of something they are trying to create and would love to see done in my style. I'll receive that sketch along with a color palette and get to work. When they get the image back, they are so happy and appreciative to see their hero or villain in some dynamic shot and in full color.
What's next for you?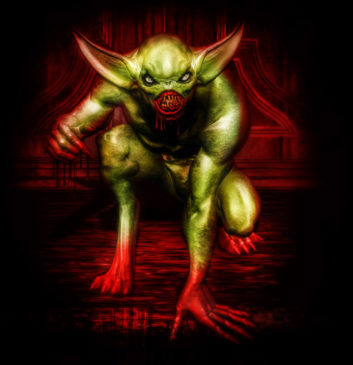 It is all about creating and never stopping. I have some personal things in life that I am closing the books on. And this will mean even more time for being creative.
In working with Nelson on our joint effort, I've stashed away a number of game mechanics I would love to incorporate (in the next iteration). I've learned some things, and (have) a different way of thinking, that I think I can fix some flaws I had in my game.
Nelson and I will continue to work on game creation under his banner of Legend Forge Games. We plan on launching a Kickstarter for the latest version of our game soon.
I'm also involved with the Coalition Comics team, and we're on our way to putting out Power Company #2 soon. I've taken a bit of a back seat there. My role in the group is pretty much house artist and I'm the web guy too.
Web Links:
https://www.vigilantecardgame.com/vigilante
http://www.heroestcg.com/