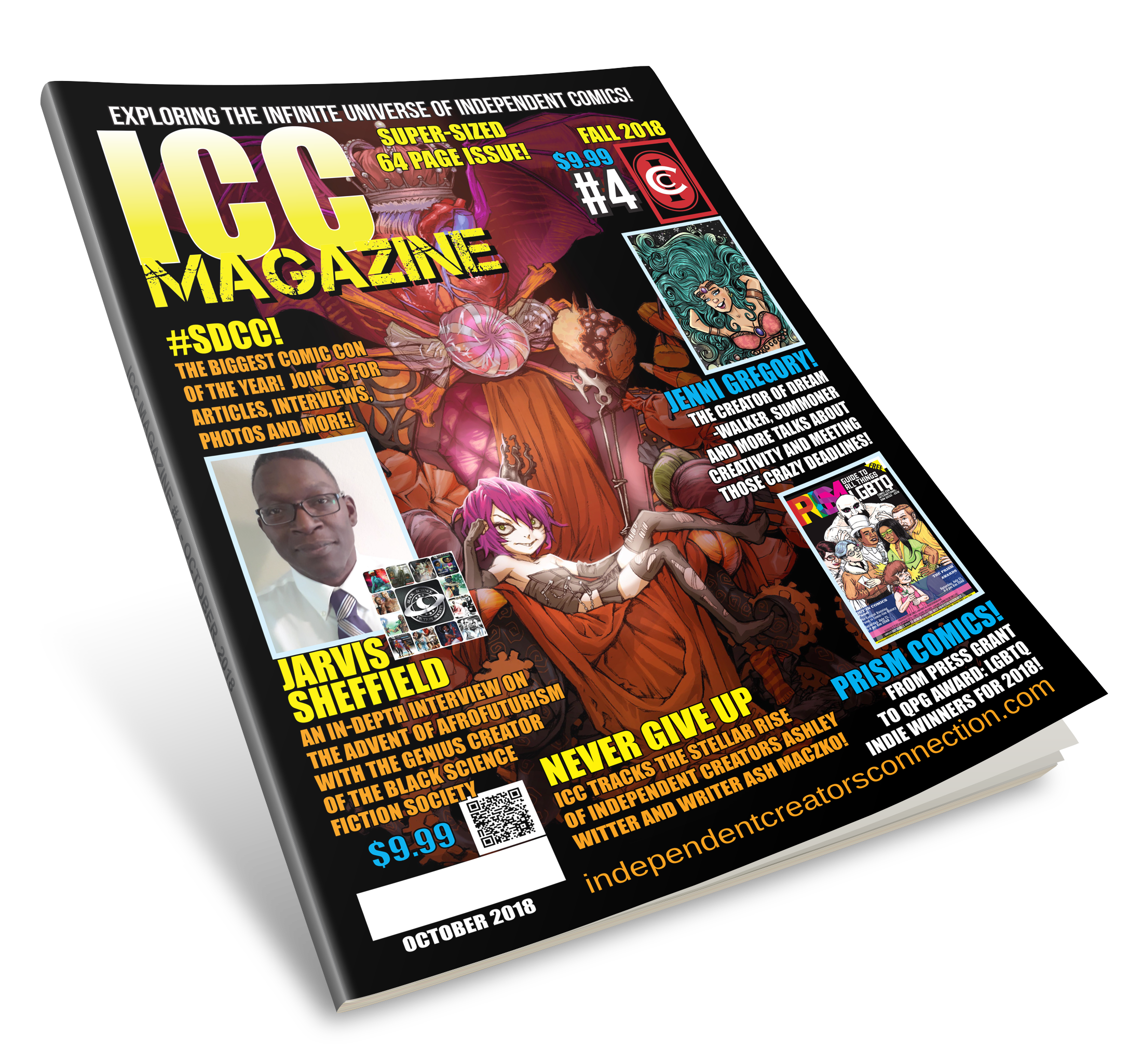 "Think Wizard Magazine in the old days (but better)." –Peacenik Press
.
---
"…Thank you all for your contributions, your support, and most of all, thank you for believing in us."
– Pam Harrison
Our Kickstarter is over! We did it! THANK YOU FOR YOUR SUPPORT!! Digital rewards have been delivered, and your physical rewards will be shipping out soon.
Be sure that you have updated your mailing addresses with the Chief Editor so we can get your rewards shipped!! Our second year is going to be bigger and better than ever before, so don't miss a minute!
Pledge

$350

or more:

Platinum Level Premium Backer

Tye Feimster, © Watch Dog Entertainment ®

Pledge

$325

or more: Gold Level Premium Backer

Jason Beckwith, Never Static Pictures

Pledge

$300

or more: Silver Level Premium Backer

None

Pledge

$150

or more:

Bronze Level Premium Backer

R Thomas Allwin
Guest 1385318592

Pledge

$100

or more:

Gimme the Cool Stuff!

Andrew
Terance Baker
Jennifer Priester

Pledge

$75

or more

ICC Mag Patron Backer

Steve Alexander-Larkin
Alex'e Brewer
Shane Morrison

Pledge

$65

or more

I, Hero

Jeff Lewis
Robert Monroe, Jr

Pledge

$50

or more

Power Fan

Detria Baker
Andrew Roland

Pledge

$25

or more

Vigilante

GMark C
Stacy Fluegge
Tasha Turner
John Jones
Ron Brooks
Susan Beneville
Daniel Williams
REZcat

Pledge

$15

or more

Street Fighter

Billy Potts
C.R. Ward
Carlos Raphael
Fernando Lyons

Pledge

$10

or more

Heroes Unite

Marcus Roberts
Rodney Lockett
Meghan Foote
Justin Gray
Keithan Jones
Adrian Petty
Francisco Zamora
Douglas E Pendleton
Madeleine Holly-Rosing
Dorphise Jean

Pledge

$5

or more

ICC Rocks!

Kurt 'KC' Christenson
Joshua Saxon
Lisa
Short Fuse Media Group, LLC.
Bill Williams
Eric Leggs Sr
John Schlim Jr
Shades of Vengeance
Jasmine Taylor
Gary Scott Beatty
Matthew Basile
Burning Spear Comix
Nick Davis
Martha
Austin Allen Hamblin

No Reward

Travis Gibb
William Satterwhite
The Creative Fund
---