Although I was a geek from birth, it really kicked into overdrive during my second year of college. That's when, through a series of happy accidents, I found a core of solid tabletop RPG-playing, renfest-attending, cosplaying (before it was called that), comic book-collecting, con-going badasses. They not only tolerated my love of spandex and laser tag rifles, but they encouraged it. And they stood by me as I painted myself various colors and let my science fiction, alien-loving flag fly in public.
Ah, the days working at the comic book store saving money for SF cons. I adored those chemically altered weekends spent in two-star hotels, packed eight people to a two-person room just so we could save enough money to buy something groovy in the dealers' room. It was truly the awesome.
I also remember weeks of preparing my SCA garb for Pennsic and the hours crawling through the crafts store searching for that perfect fabric to make my "Party Cthulhu" costume. It was the shiznit.
But none of it, no Star Wars blaster or silver Members Only jacket, no case of Elder Brew or ammo holster full of Pez, nothing, could close to that rush I get every time I suit up to ride.
Each time I mount my bike, I feel like a goddamned superhero (or villain depending on my mood). No amount of elderly driving shenanigans can bring me down when I'm catching the wind.
Now, there are conflicting schools of thought when it comes to motorcycle wear. And without getting into name-calling or riding politics, I will simply state that there are those who enjoy the feeling of riding unencumbered by safety equipment or clothing in general. These brave souls cruise down the roadways in flip-flops, cargo shorts, and sleeveless t-shirts mocking the fates, as their helmetless heads bask in the breeze that sweeps their wild locks of liberated hair.
I, on the other hand, take an entirely different approach.
Before every ride, I suit up. I can almost hear Captain America's words as I gather my gear and prepare for action. Sometimes, I carefully arrange my outfit the night before. Other days, it's on the quick, but each time it's magic.
Depending on the weather, I choose either leather or mesh. Leather is my favorite, as I feel unstoppable clad in that thick black hide. Those are the rides where I typically feel most villainous. Clad in dark armor, ready to wreak havoc on the roads. Okay yeah, I ride a Honda Rebel 250, so maybe not so much havoc.
However, living in a warmer climate, I only get maybe two weeks of reasonable leather weather. So, mesh it is.
The mesh may sound less battle-ready, but what it lacks in fierceness, it makes up for in color and design. Plus, the mesh jacket is no slacker in the protection front. It incorporates removable pads in the back, elbows, and shoulders. Matched with the armored black jeans and my color-coordinated sap gloves (perfect for beating down any bastard who decides to get funny), my pink and black ensemble appears formidable while remaining chic.
My helmet is also a synergy of function and fashion. Equipped with a camera and Bluetooth communication system, I'm a real-life Ironman, sealed in tight and ready for action. Every bad actor on the road is recorded and archived for later scrutiny. I have hours of crazy driver footage stored on my home network storage array. I've even been featured on some of those crazy motorcycle near-crash YouTube channels.
I have several pairs of boots. One pair, admittedly, was a tacticool 5.11 clone I acquired at a yard sale. They work but kind of got worn out. My new go-tos are a legit pair of Corcoran jump-boots. They rock.
But my favorite, if just for looks alone, are my O'Neal pink and black motocross boots. I haven't gotten to wear them out yet. They're still too stiff, and I can barely get the metal toe part under my shifter, but fuck if they don't look like I should be drop-kicking whiny super bitches with them. I love those things and with the rest of the outfit, yeah, I could rule this puny world with my stylish might.
My watch is the most recent addition to the mix. It's a Casio G-Shock GM-110RB rainbow quartz limited edition watch, most likely a fake. But like a siren's song it called to me when I saw it listed on eBay. I had purchased the perfect pink and black Baby-G to go with the outfit, but this is the one. Resplendent in its iridescent charm, it enhances my powers with its direct connection to the Gaudy Force.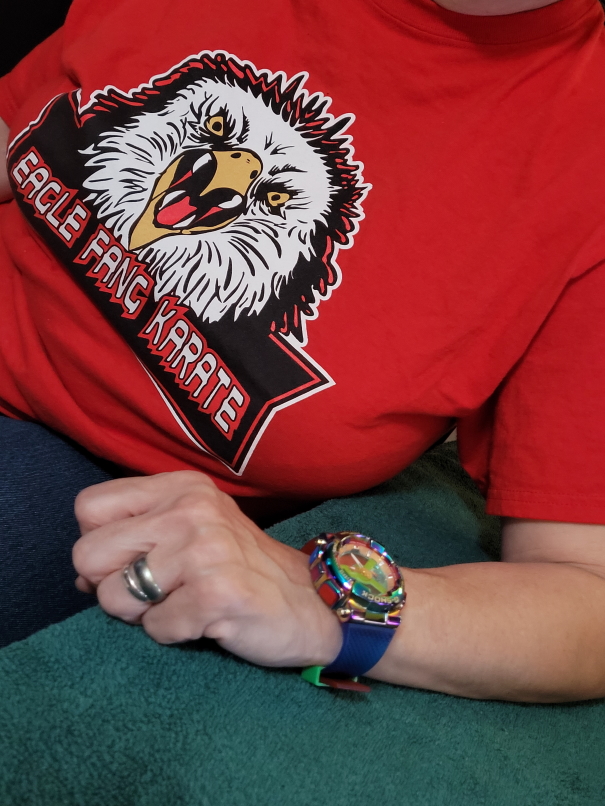 And, of course, you need a soundtrack to ride while in the perfect gear on your rolling death machine. Living in the land of old infirmed drivers puts me at constant risk of a debilitating, bone-crunching crash. So metal is always a good choice to keep the adrenaline pumping, although my "Outlaw" and "Bike" playlists are somewhat eclectic.
Before Covid, I would ride into work as frequently as three times a week. The first time, I made my boss scream like a little girl when he saw me. He played it off, saying I simply startled him, but I knew the truth. He quaked in fear at my might. He can't deny that, no matter how many times he calls me the Pink Power Ranger.
Despite being of a certain age, and not attending many conventions in recent years, I still have found a way to embrace my inner geek and remain ultracool in the process. I ride these streets with vengeance in my heart ready to…er…record schmucks when they cut me off. Okay, well it's something and I do feel badass when I do it. That's the crux of the matter.
So our takeaway from all this rambling is this: Geekiness cannot be created nor destroyed. It only changes state.
And my current state is suited-up on two-wheels.
Rock, the fuck, on!