ICC's article #61 talks about a man who is motivated, innovative and working it. In  old school terminology we like to call it "Grinding", which for those who don't know is a term for one who is putting in that work. So I did an interview with Mr. Wright and found out that He is one of those people. He is putting in work, and there is no stopping Him. His bio below tells you a great deal of information about "One man's grind".  I think you will like it.
COMIC PUBLISHING OPPORTUNITY 03-15-2021
ICC BAKER'S ARTICLES
I am a jazz guitarist and in 2012 I released a jazz/funk/hip-hop futuristic themed album titled, Through the Mind's Eye. Thinking of clever ways to promote it, I wanted animated videos with warrior musicians, and out of that idea was birthed whatbecame the comic series, Avant Guardians. Set in a post-apocalypse where music is abolished and punishable by death, a young jazz guitar virtuoso must learn to humble himself if he is to become the prophesied musical messiah and lead a band of warriors to liberate humanity from alien tyranny.
Avant Guardians currently has a short prologue, four full-length issues, two soundtrack albums, and is inspired by classic 80's action hero cartoons like G.I. Joe, The Transformers, and Thunder Cats.Since it is about futuristic, post-apocalyptic musical warriors, it is also inspired by the sounds of jazz fusion acts like Return to Forever, Herbie Hancock, and the progressive rock band, Rush.
It's also inspired by my love for late 80's and early to mid-90's hip-hop that was very jazz and funk oriented and very socially and politically conscious about fighting against oppressive forces. So, Avant Guardians will have a spin-off team of warriors called Cypher Guardians: Defenders of the Elements of Hip-Hop, that I will launch in a teaser comic in late summer 2021. My goal is to develop the Avant Guardians universe into an animated series and live-action film franchise.
I officially launched Avant Guardians in the summer of 2017 at my first comic convention. When I first thought of Avant Guardians in 2012, I originally envisioned it as an animated series and live-action film franchise on the scale of Lord of the Rings, the Matrix Trilogy, and the numerous Marvel films. However, using my own limited financial resources, I've focused on developing a good comic series to be used later as the basis for animation and film projects. Because I knew nothing about how to create a professional comic book, I spent time researching the industry by reading articles and watching 'how-to' YouTube videos.
I also found a helpful article for how to format a comic script and this helped me properly structure my writing for illustrators. Finding an illustrator was a very difficult process, and it wasn't the cost that was the biggest problem. It was the lack of professionalism and consistency. After many searches, I finally got a friend of mine from middle school to be the first illustrator. He did pencils and inks for several issues, and another friend did pencils and inks for a couple issues as well. Currently, I have an overseas illustrator who has done the most work for Avant Guardians, including penciling and inking for issues five through eleven. I am the colorist for all issues.
My advice to others is to 1) do a lot of research; 2) write a lot of notes before you start writing your comic script, especially on the characters and how they relate to one another; 3) commit yourself to realistic goals, for example, I currently release only one issue per year because I have an entirely different career outside of comic books; and 4) I strongly suggest maintaining a good professional relationship with others you collaborate with because word travels and you want others you haven't met and may one day work with to have heard good things about how you've worked with others in the past. In other words, even though you're not yet making big money, take yourself seriously as a professional and be disciplined about your work habits.
I really do enjoy writing for Avant Guardians and coloring the comics and making the music. It is a lot of work, but my passions for creativity is what fuels me. In addition to the spin-off project,Cypher Guardians: Defenders of the Elements of Hip-Hop, I will have other comic series, one that focuses on my parent's home country of Jamaica set in a near future with robots, gang lords, and a Rastafarian resistance movement. I also have an idea based on a highly exaggerated telling of my career as a university professor who teaches about racism in the day and at night fights neo-Nazi's and other similar unsavory characters. In general, I want to create awesome sci-fi/fantasy stories that contribute to the growing interest in the sub-genre known as Afrofuturism, with an intent to increase representation of the black diaspora in futuristic storytelling.
I sell digital copies of Avant Guardians comics and music on Amazon, iTunes and Spotify. For more, visit Avantguardians.com and follow me on Intagram @avantguardiansmovie and @avantguardianscreator and on Facebook @Avant Guardians: The Most Original Epic Action Adventure in Generations.
For anyone interested purchasing physical copies of Avant Guardians comics and soundtrack music, you can mail order directly from me on PayPal to: wrightd001@hotmail.com and on Cashapp to: Devon Wright at AVGWRIGHT001. Package deals are listed below.
$25 –> Prologue + Soundtrack Album 1
$45 –> Prologue + Issue 1 + Soundtrack Album 1 + Two character posters
$50 –> Issue 2 + Issue 3 + Soundtrack Album 2 + Three character posters
$80 –> Total Package: Prologue + Issues 1,2,3 + Soundtrack Album 1 + Soundtrack Album 2 + Five character posters
Message me on Instagram or Facebook for any questions or just send payment with your mailing address to:
CASHAPP: $AVGWRIGHT001
PAYPAL: Wrightd001@hotmail.com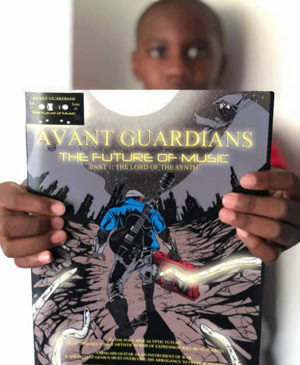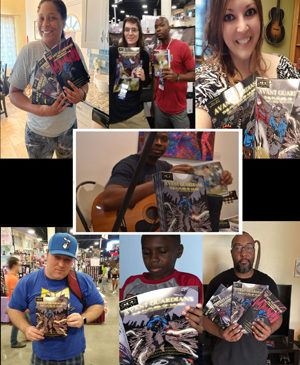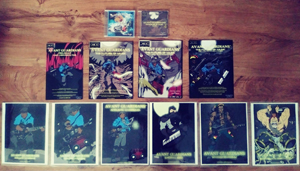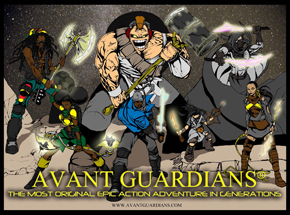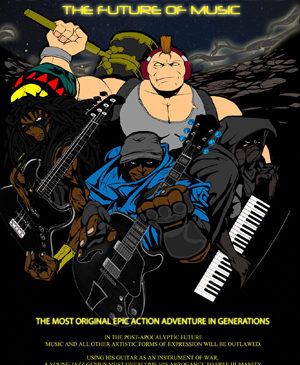 Now if this isn't motivation for you, I can't tell you what is. Keep up the good work Mr. Wright. The fans need it and we salute you!