Sources: NBCNews |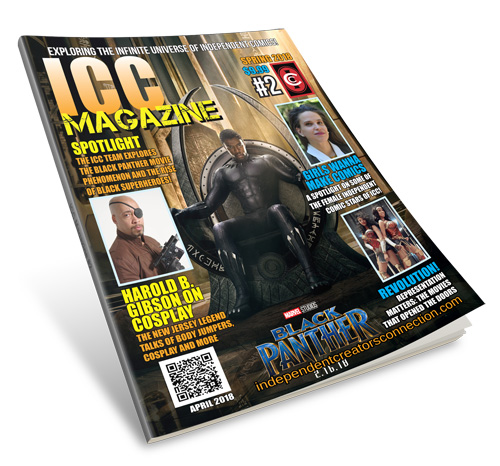 Late last night, on the eve of the 57th Anniversary of Martin Luther King, Jr's historic "I Have A Dream" speech at the original #MarchonWashington, on Jackie Robinson Day, the world was rocked with the news of the passing of a cinematic hero icon.
Chadwick Boseman, who skyrocketed to international fame in the role of King T'Challa in the 2018 blockbuster Black Panther, died after a four-year battle with colon cancer.
In Spring 2018, we had the privilege of being allowed to feature Boseman in his iconic role on our second issue of ICC Magazine, spotlighting the Black Panther movie phenomenon, the importance of representation, comic history, and the rise of Black Superheroes in comics.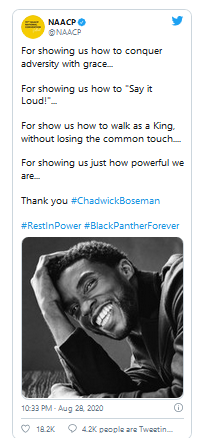 The actor was diagnosed with colon cancer about four years ago, according to a statement from his family.
Boseman was a mainstay of the Black Panther franchise and also appeared in Avengers and Captain America movies. He also played Black icons Jackie Robinson, Thurgood Marshall and James Brown in feature films.
"A true fighter, Chadwick persevered through it all, and brought you many of the films you have come to love so much," his family said in the statement. "From Marshall to Da 5 Bloods, August Wilson's Ma Rainey's Black Bottom and several more — all were filmed during and between countless surgeries and chemotherapy. It was the honor of his career to bring King T'Challa to life in Black Panther."
The NAACP paid tribute to the actor on Twitter, praising him for "showing us how to conquer adversity with grace … for showing us just how powerful we are."
Oscar-winner Matthew A. Cherry, who spent three seasons as a wide receiver on various NFL teams before turning to filmmaking, praised Boseman's strength.
"Chadwick was really out here shooting all of these huge action movies while fighting stage 4 colon cancer. Man. Strong isn't even the word," Cherry tweeted Friday night.
Writer Roxane Gay said the news was devastating. "My heart goes out to his family," she said on Twitter.
Filmmaker Jordan Peele said the loss of Boseman was a "crushing blow."


On March 4, 2018, Chadwick Boseman appeared in this Sunday Today spotlight to talk about the runaway phenomenon that was the Black Panther movie. Boseman explained: "There is a thirst for Black superheroes."
Let His Name Become Legend. Rest in Peace, King T'Challa.
Wakanda Forever. –ICC Magazine