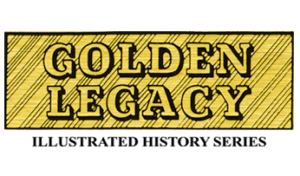 Remembering Golden Legacy Comics
Black History Month and Women's History Month; February and March respectively; are designated as the time of the year when we recognize the achievements of Black Americans and Women throughout the history of the United States. The importance these events are not overlooked nor underplayed. The recognition of the achievements that the respective groups have accomplished serve to continually inspire generations and often are the foundation for the perseverance and determination that accompany said achievements. It is especially noteworthy when an individual can be highlighted that bridges not only the celebrations of both months, but is celebrated in comic book history as well. This individual is regarded as a pioneer for African American women in her career field; an undertaking that in itself was historic in what it accomplished for African Americans in the field of comics.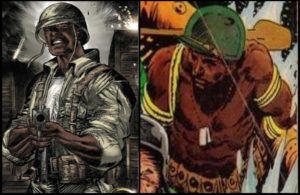 In the sixties the presence of African Americans in comic books had begun to become more visible. In the decade prior, EC Comics had already published the first story of African Americans fighting with their story Bunker which featured an all-black infantry unit, and this trend continued on with DC Comics, who in December 1961 published issue #113 of the comic Our Army At War which included Jackie Johnson, who was a member of Sgt. Rock's and Easy Company and in May 1963 their competitor Marvel Comics published Sgt. Fury and his Howling Commandos which included Gabriel "Gabe" Jones. By the mid-sixties, comics were including more Black characters in non-stereotypical roles, and in 1965 publisher Dell Comics published the western series Lobo, which featured a Black lead and lasted only 2 issues, and in 1967 Gold Key published the 6 issue series I Spy, which featured Bill Cosby along with Robert Culp, who were the stars of the television show from which the comic series was adapted from.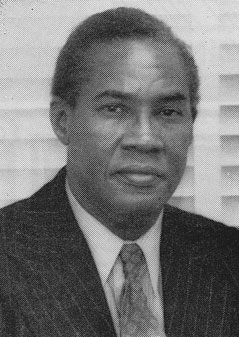 As the comic book medium grew in popularity it became more and more an integral part of the youth of that time's experience. Enter Bertram Fitzgerald, Fitzgerald publishing, and their comic book series, Golden Legacy.
Bertram Fitzgerald was an accountant working for the New York State Department of Taxation and Finance who wanted to do something about the lack of Black History in the schools. He came upon the idea to use the comic book medium which had become so popular and use them to tell about historical character that were influential to him growing up. With the help of one of his friends he met during his time in the Air Force whom he hired to write and illustrate the first volume, Bertram set out to get his book, which featured the story of Toussaint Louverture and the birth of Haiti, published.
Fitzgerald ran into difficulties initially in trying to get his book distributed. The major publishers of the day saw comic books as entertainment and were not interested in publishing a comic book featuring black educational material for which they saw no market for. Fitzgerald also had problems finding a printer that could adequately print the black characters in his book. The printer in which he eventually had to settle for didn't possess all the modern printing equipment which is evident in the early issues of the comic. Fitzgerald was able to connect with a group of independent distributors that catered to the black community and supplied the community with items that were earmarked especially for it. He found getting paid from his association with these distributors difficult. Fitzgerald used this distribution method once more with Volume 2.

Volume 2 of the Golden Legacy series entitled, The Saga of Harriet Tubman, holds a special place in not only African American history of comics, but in the history of African American women. Although he had yet to find another avenue of distribution, Fitzgerald connected with Joan Bacchus and cartoonist Tom Feelings to do issue 2. Joan Bacchus worked as a commercial artist and possessed a strong artistic background having illustrated covers for the NAACP magazine Crisis, and serving as art director for McGraw-Hill. A graduate of Empire State College of the State University of New York, Bacchus attended the Art Career School in Manhattan and was a Revision Fellow at Columbia University. It was in 1966 when she joined Fitzgerald's team and not only wrote the story but also did the pencils for the next volume. She went on to write, pencil, and ink, Volume 5 (The Life of Matthew Henson) and Volume 10 (Joseph Cinque and The Amistad Mutiny).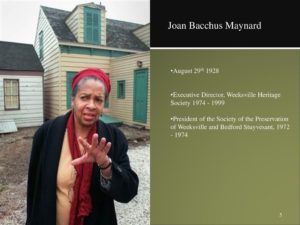 Bacchus is best known as a preservationist for her work in the late 1960's in the preservation of the Weeksville community. The Weeksville community was a African American community in Bacchus' home of Brooklyn, New York. The Weeksville community was founded in 1830 by both free blacks and escaped slaves. The free blacks owned property, and in doing so, gave them eligibility to vote. The community was able to last for almost 50 years. Due to her hard work to maintain and preserve the legacy of the Weeksville community a block of Buffalo Avenue in Brooklyn has been named after her.
By Volume 3, Fitzgerald had abandoned the independent distributor's network, and was able to enter into a business arraignment with the Coca Cola Company in which Coca Cola paid the printing cost of the book in addition to purchasing prime ad space in the books. Coca Cola also bought wholesale bundles of each volume and which it distributed to local NAACP chapters and schools for free. This deal would last through Volume 11 after which Fitzgerald negotiated similar with companies like McDonald's, AT&T, Columbia Pictures, and Avon to name a few.
The books were published throughout the next decade and into the 80'; 16 volumes total; when suddenly publishing of the book came to a halt. Bill Baylor, another publisher, had convinced Fitzgerald's printer that Fitzgerald sold him the business, and got the printer to turn over the original plates and negatives to him. Baylor then began reprinting the books, now with his name attached to the books. Fitzgerald was able to sue for copyright infringement, which took him 5 years to win. Fitzgerald got his negatives back and was once again able to print his books, but Baylor disappeared before Fitzgerald was able to recoup any monetary damages he won through the courts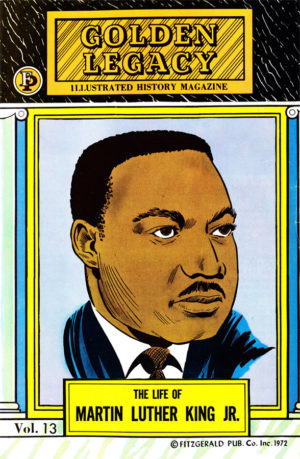 In a time when the words "diversity" and "representation" were yet to be considered in comics, Bertram Fitzgerald stepped out and using the popular medium of the day, introduced to generations not only African American history, but in doing so, made history himself by not only publishing his on books featuring African American historical figures, but also in hiring one of the first African American woman to work in comic bools.
Golden Legacy books are still available for purchase from its website www.golden-legacy.com and more information about the Weeksville community can be found at the National Register of Historic Places.