ICC article# 35, Ms. Steph Cannon.
I met Steph along with Matt Knowles a good little while back, some compadre in arms-at-conventions so to speak they are an amazing team! Sometimes their booth was right down the aisle not too far away from me and I can constantly see them working their convention magic! Matt knows that I always have my camera with me and I would be randomly taking photos of the creators and these guys always have some one at their booth and work the magic! They are the charm at the con , the crowd pleasers and they are Good people, and have many friends and are very well known in the industry. Here is a little more about them:
If you've ever been to a convention and noticed the person with the brightest smile and aura in the room, you've probably seen Steph Cannon. She is one half of the power duo behind the content creation company, INSYMMETRY CREATIONS.
Don't let her positivity and bubbly personality fool you, however. One thing she is very serious about is her content creation.
In 2019 she and her company/partnership burst onto the scene, making 35 appearances, from in-store comic book signings up to appearances at the biggest comiccons in the country (Wondercon, Megacon, San Diego Comiccon, Spooky Empire, and more).
During the year the INSYM pair (alongside Matt Knowles), released five individual issues of their steampunk time travel series HEIRS OF ISILDUR (9,10,11 and revamped versions of the first 2 issues) as well as a 268 page trade paperback / graphic novel version for the entire 'The Crossroads Conundrum' story arc. They also launched a co-written medieval spinoff mini-series entitled TALES FROM NOCTURNIA.
The duo had three successful kickstarter campaigns in the year, all raising more the $5000 each time out.
The wheels on their steampunk locomotive look to be spinning up to full speed in 2020, with the launch of their adventure horror series THE ACCURSED on Alterna Comics. This series is the logical continuation from Cannon's two page short, HEXED, that was featured in 2018's IT CAME OUT ON A WEDNESDAY #1 Anthology.
TALES FROM NOCTURNIA is slated to see both issues #2 and #3 land in the public's hands this year. The HEIRS OF ISILDUR follow up story arc, THE PERILOUS PROSPECTS, will see Cannon expand her role and be more involved in the writing and storyline creation.
Prior to her time with INSYM, Steph made a name for herself with shorter, one shot offerings. Her very first story, the one page 'Boot Hill', was a finalist in the Ghost City Comics Competition for 2017. She has had multiple pieces included in anthologies: 'Bogey' (IF Anthology – Alterna Comics), 'Light Reflected' (CORPUS), and the aforementioned 'Hexed' (It Came Out on A Wednesday #1 – Alterna Comics) She was also a story consultant for Luke Martinez' graphic novel 'The Ascendant'.
Steph is also an avid runner, who has completed 2 marathons, 13 half marathons, and logged over 1000 miles run each of the past four years.
To keep up with her appearances and the company's release schedule:
website: https://heirsofisildur.wixsite.com/insym?fbclid=IwAR0XsQ0qsXg9w0Nki5FrlfXi5aCZ9hs7tWCWo9s-BLvIgdYAUaGUkuSZUkc
BLOG: https://heirsofisildur.wixsite.com/insym/blog/?fbclid=IwAR0vQWRSiecEEF3_l6EkDSCCjTCaQ73Y5FpCIR5hSO-kg8LqtOGhM8_Anrc 
on line store: http://tinyurl.com/insymSTORE?fbclid=IwAR0-Z18S9c0n27vav1ro9xAtKUscVAtAS7vzj-oIcMCkTgsgI3i3ku9lP78   
twitter: @Scannoncomics @Insymcreations @Heirsofisildur @TFNocturnia
facebook: /Insym /HeirsofIsildur /TalesFromNocturnia
So make sure You stop by and check them out, Keep up the great work Matt and Steph, ICC is happy to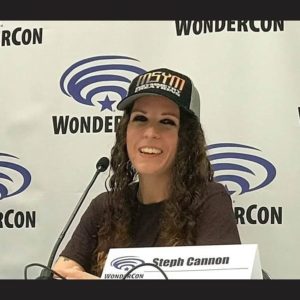 call you our friends!