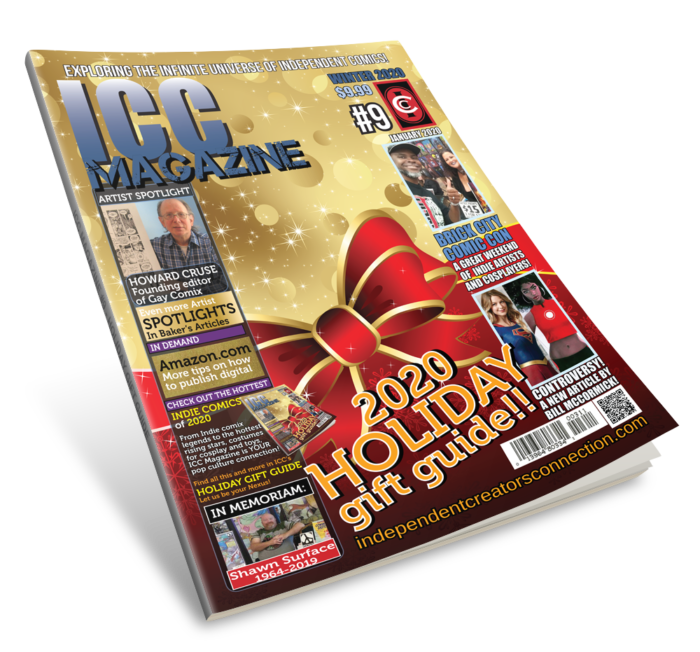 (Editor's Note: As far as I am able to gather from Googling references, this was Howard Cruse's last interview before news struck the internet like thunder of the Indie/Gay comix legend's passing on November 26, 2019 after a long struggle with cancer.)
I am stunned and heartbroken to report the passing of my new friend Howard Cruse. He was so pleased with our interview in ICC Magazine #9, the Holiday Gift Guide. Howard and I wrapped up the final corrections on his Artist Spotlight on November 10, 2019. I remember that both of us were thrilled with how it went.
Howard
's very last words to me:
"The PDFs you sent of the interview layout look spectacular! You are really quick on the trigger. My main reaction is that I'm thoroughly flattered that you've presented this window into my life so beautifully. I hope
ICC's readers enjoy it.
Howard"
---
Friends and family tell me he lost his battle with cancer at the age of 75. Through weeks of our interview, he NEVER TOLD ME he had cancer. I guess he didn't want it to overshadow the interview. His magazines are on their way to his family. I am numb over this loss. But I am so proud I got this once in a lifetime interview with him.
Hold your loved ones close this Thanksgiving, and heartfelt condolences to Howard's husband Eddie, daughter Kimberly and their family.
Prism Comics announcement, November 26, 2019:
All of us with Prism Comics are deeply saddened to hear of the passing of Howard Cruse, and we wish condolences to his husband Eddie and the family. Howard was a true pioneer. His work is an important part of queer history. He forged the way for the graphic novel medium that is so popular today. And he was THE nicest individual you could ever meet. He will be forever missed, but his genius, his sensitivity, his humor and his out-and-proud queer voice will live on in his work.
As we prepare for Thanksgiving tomorrow, the offices at IndyPlanet and Ka-Blam Digital Printing are closed for the holiday. Howard Cruse's final interview in ICC Magazine #9 will be on sale at IndyPlanet.com around December 1st, 2019.
Let your light shine.
–Pam Harrison, Chief Editor, ICC Magazine.