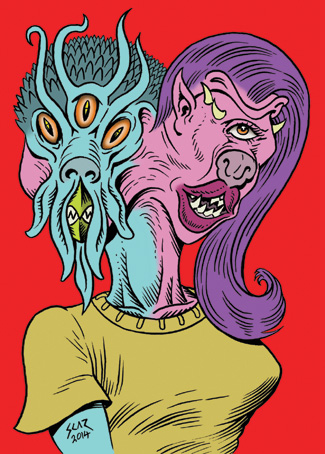 You want to be a successful comic book creator? It's easy, just follow these rules, never deviate from these rules, make all your characters conform to our preconceived norms, and never, not ever, have an original thought. Now, that's out of the way, show us your version of Superkitten versus the Flower People.
Australian creators, Steve Carter and Antoinette Rydyr heard the same thing, said "up yours," and set about subverting the universe. And for the last twenty-five years the results have been glorious.
Mixing horror, tongue in cheek humor, sex, and violence, Steve and Antoinette, collectively known as SCAR, have been serialized, created anthologies, released content that has earned them legions of fans, a prestigious award (more on that in the interview), international publications, and a stern rebuke from the Australian Parliament.
Suffice it to say their career path has been anything but boring.
Let's take a deep dive into the wonderful world that has gifted us with Savage Bitch, Kill of the Spyderwoman, Femonsters, New World Disorder, Bestiary of Monstrum, Weird Worlds, Phantastique – Tales of Taboo Terror, and so much more.
You have been creating outrageous, and wonderful, content for twenty-five years. We'll start with the obvious, how have you managed to stay sane in a world where conformity is king?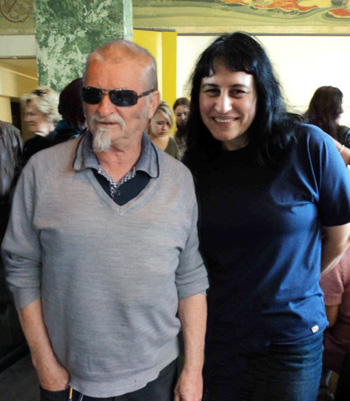 We stay sane by supporting each other and having a sense of humour!
Residing in a conservative country, censorship has dogged us throughout our career. There is constant pressure to conform, to dumb down the writing, to tone down the images and censor ourselves. At the end of the day you have to be true to yourself and present your own original and individual vision.
When working in horror you are going to depict bad guys. Some people find this confronting, especially those who have difficulty distinguishing between fantasy and reality. They think that whatever you depict in your art is your belief system. They don't understand that we're presenting a fiction. With horror you travel to places that are uncomfortable and unsafe.
The obvious solution for our detractors is to simply not view our art but they get outraged that we dare to step over an imaginary line of what they perceive as unacceptable. But at the same time they seem to have a visual addiction to the heavy imagery and attempt to deny others the choice to view it.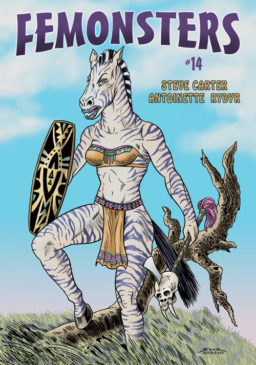 Our art tends to polarize viewers – they either love it or hate it. There's no in-between. Sometimes people don't know how to react to our work as they have never seen anything like it and have no reference point. At an event we attended a couple of years ago, a woman dressed in a unicorn onesie looked through one of our "Femonsters" pin-up books with confusion. Then said that she didn't know if she was "allowed" to like it or not because she couldn't determine "if it was sexist or not"!
It is disconcerting that the whole world appears to be going mad. It's bad enough that imagery gets censored but now certain words are taboo and even struck from the dictionary! Recently, we were at Indie Comic Con, a local comic festival, at the Northcote Town Hall, in Melbourne Australia, and Council staff were trolling around. They told the organiser that they objected to certain material being on display by a few of the exhibitors. The organiser had to relay to us that our books "Savage Bitch", "Poor Bitch" and "Spore Whores" were deemed offensive by the Council and could not be displayed. Imagery was not a problem but the words "bitch" and "whore" apparently were offensive. We worked out a compromise by turning the books around and displaying the back covers!
Our art tends to polarize viewers – they either love it or hate it. There's no in-between. Sometimes people don't know how to react to our work as they have never seen anything like it and have no reference point."
I normally don't ask about influences, since people rarely care, but your stuff draws from some deep pop culture waters. Where do you find your inspirations?
Influences and inspiration are all around us. Growing up we were heavily into movies, such as John Carpenter's "The Thing", George A. Romero's zombie films, the original "Planet of the Apes", "Island of Lost Souls," retro sci-fi films, and especially those by Ray Harryhausen including "Earth Versus the Flying Saucers", "Jason and the Argonauts" and "The Golden Voyage of Sinbad", etc. TV shows such as "Untouchables", "Outer Limits", Rod Serling's "Twilight Zone", sword & sandal epics, etc.
In art there was an early and immediate attraction to the surrealism of Hieronymus Bosch, Pieter Bruegel, Salvador Dali, Max Ernst, et al, Norman Lindsay's bacchanalian paintings and the pop culture bizarrism of Basil Wolverton and Ed Roth. We were inspired by the comic art of Jack Kirby, Russ Manning, Steve Ditko, the art of Frank Frazetta, as well as the underground comic artists such as Greg Irons, S. Clay Wilson, Spain, Robert Williams, etc.
We are always seeking weird art that we've never seen before and hope that with enough exposure people will grow to appreciate the previously unfamiliar. Now with the internet there is a plethora of amazing and surreal art, old and new, from published and unpublished artists, to be inspired by!
Your graphic novel, PHANTASTIQUE – TALES OF TABOO TERROR, came out circa 1985 and got condemned by the Australian Parliament, caught flack from the arbiters of what is morally right, and was roundly derided as all that was wrong with humans. Now it's lauded as one of the best examples of the genre, even being called "the Twilight Zone on acid" by the prestigious Australian Comics Journal. Is the world catching up with your good taste or going to hell in a hand basket?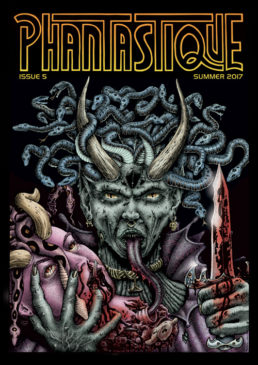 Our graphic novel "Phantastique – Tales of Taboo Terror" was published in 2017. It was a celebratory book in full bloody colour resurrecting the original comic book singularly titled "Phantastique" in 1985 and 1986. The original "Phantastique" from the 1980's was created by Steve Carter and his vision was to present to Australian mainstream readers a specific style of science-fiction, horror and fantasy that had, at that time, not been seen on national newsstands, magazine racks, etc.
Initially, the intention was not to shock and offend, but, when the first issue hit the newsstand all hell broke loose. Headlines of "torture magazine" were splashed across the media. It was reviled by radio shock jocks across the airwaves and on TV current affairs programs, and was even condemned in Parliament! Steve received death threats from anonymous phone-callers who hadn't even seen the magazine. After much controversy and media attention, the final issue appeared on the newsstand late in 1986. Issues #3 and #4 were banned in Queensland, South Australia and Western Australia.
We are not interested in catering to the lowest common denominator and try to be original. So as far as "the world catching up" is concerned, we have seen ideas that we invented decades ago and which detractors were hypercritical of, now being presented in popular culture and becoming commonplace. Some of those critics are now trying to jump on that bandwagon! Many people in Australia have been conditioned to only accept material consisting of middle-of-the-road mediocrity but we have been encouraged by feedback from our fans who are impressed by our creations.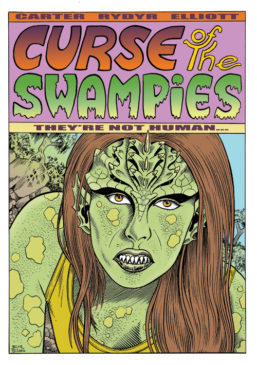 One example of the obstacles we have encountered is regarding our screenplay called, "Curse of the Swampies", written with Paul Elliott, which won Best Feature Film Screenplay at the A Night of Horror International Film Festival 2010. "Curse of the Swampies" is like "Creature from the Black Lagoon" meets "Invasion of the Body Snatchers" and "Alien Nation" with shades of Lovecraft's "Shadow over Innsmouth". It is about a bizarre race of female aquatic predators that assimilate men to propagate its species.
Winning the award opened the door to speaking to a number of producers and various film industry personnel but Australians don't seem to like taking a risk on something original and prefer to follow trends established overseas first.
Many Australian film makers, directors and producers, insisted on following a specific political agenda and displayed a limited comprehension of concepts outside of their field of reference. Our swampy creations are evolutionary creatures in an alternate version of Earth but one producer/director team wanted to compromise the integrity of the concept and make it derivative of everything that has already been done by turning the swampies into supernatural beings which have hardly any screen time.
We have written several screenplays, and despite winning the award our screenplays, have not been produced. We are still open to discussion about our screenplays if anyone is interested in bringing any of them to fruition.
You continue to create unique, and gloriously subversive, stuff. Have you ever felt the pressure to just say "Screw it, let's draw kittens and flowers?"
No! There is no need for us to draw kittens and flowers. There are so many other artists doing a wonderful job of drawing kittens and flowers. We don't need to add to an oversaturated pool.
We want to be happy with our output. We want to be able to look back on our creations and say, hey that's a great idea! We don't want to flip through our folder and look at hyper realistic drawings of refrigerators or advertising material or even fan art. We want to develop interesting and exciting ideas, not be bored by the mundane and the mediocre.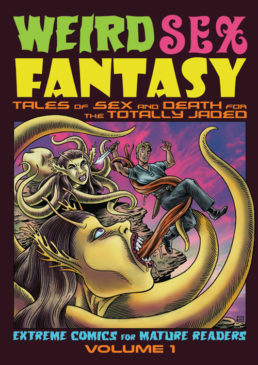 Freedom of creative expression with no boundaries is the most important aspect for us.
We like science-fiction, horror, monsters, the weird and the bizarre, and have unique stories to tell. We'd rather concentrate on producing our strange art and writing and if others enjoy it that's great! In fact "Weird Sex Fantasy – Tales of Sex and Death for the Totally Jaded" is our best selling graphic novel and contains the most grotesque imagery! There is always room for improvement in technical abilities but the important aspect for us is the idea and trying to be original and imaginative.
You have three massive releases coming out in 2019. Tell us about each of them and a little about how you create such a prodigious amount of product when others can barely eke out a short web-comic in a year.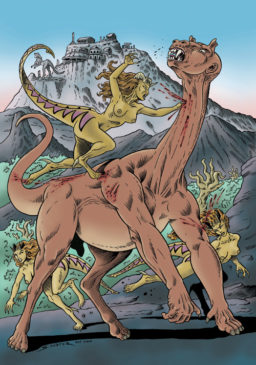 ALIEN EDEN depicts an alien planet called Nemesis that is being colonized by Terrans in the far flung future. The planet is populated by "humanids" which are humanlike animals, and tribes of amazon warriors. The female is the dominant gender on this world while males are rare and sought after. Nemesis is a dangerous and perilous world full of deadly predators.
The first Alien Eden comic story was created in the late 1980s and called "The Initiate". This early version was redrawn, retitled as "Femosaur World" and published by Eros Comix (a part of Fantagraphics) in 1993.
We've since developed the world, designed an ecosystem of fauna and flora, and set numerous comic and prose stories on Nemesis. These stories have appeared in various underground comics over the years. We decided that it was time to collate them into a series of graphic novels!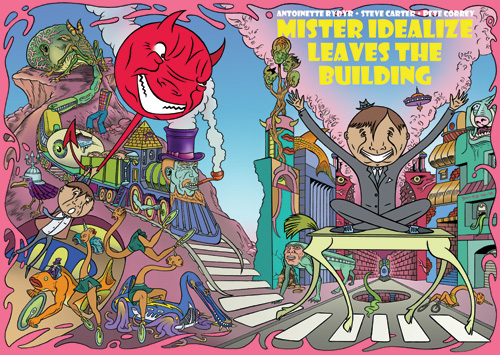 MISTER IDEALIZE LEAVES THE BUILDING is about a harried office worker who escapes into an absurdist surreal world and learns to follow his dreams. It is also a book of surrealist art, comics, puzzles and activities for enquiring minds, suitable for all ages.
Feeling trapped in a regular nine to five job, Mister Idealize represented our journey through the workforce and served as a catharsis from the workaday drudgery. After the first story was created in 2002 a series of stories followed starring Mister Idealize and Ms Idealize. "Mister Idealize Leaves the Building" was drawn in 2005 and is the most surreal in the series. It was submitted to Australian publishers but none were interested. We released it as a black and white zine and it soon sold out. The intention was that it would always be in colour so we recently recruited Pete Correy to help out.
We want to be happy with our output. We want to be able to look back on our creations and say, hey that's a great idea! We don't want to flip through our folder and look at hyper realistic drawings of refrigerators or advertising material or even fan art. We want to develop interesting and exciting ideas, not be bored by the mundane and the mediocre."
In the meantime, we were banned from a local independent comics festival despite having helped them with their funding efforts. According to their letter of rejection they wanted to focus on promoting certain political agendas and our "content doesn't suit"! We made people aware of the prejudice and discrimination on social media. One of the people who took notice was a publisher who was interested in seeing our art. After showing some of the coloured pages from "Mister Idealize Leaves the Building" the publisher fell in love with it and immediately offered us a publishing contract! It will be published in 2019 by Shooting Star Press in Australia.
WEIRD WILD WEST is a series of novels that isn't just full of cowboys and outlaws, saloon girls and gamblers. It is an imaginative world of mechanical horses, mutant killer plants, flying dinosaurians, headless indians and fearsome zombie gunslingers hell-bent on revenge.
Part 1 "Hell Dorado" and Part 2 "The Good, The Bad and The Zombie" were published in one volume in 2018 by Bizarro Pulp Press, an imprint of JournalStone Publishing, USA and included interior illustrations by us and cover by Dave Heinrich.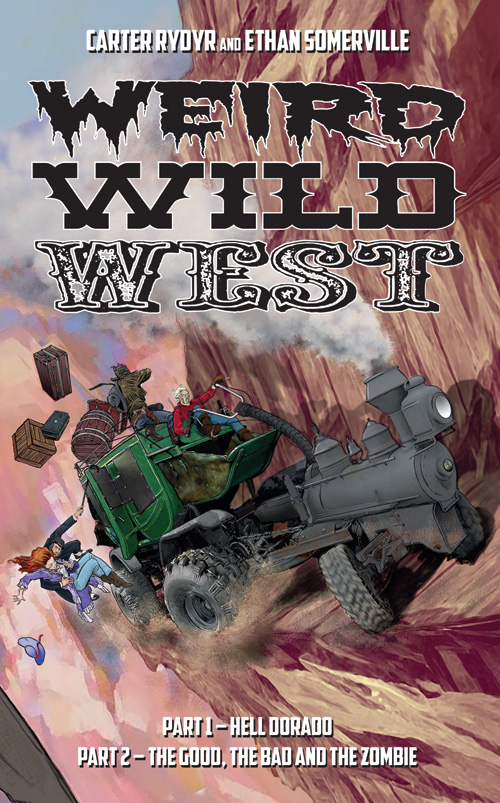 The initial concept of "Weird Wild West" was conceived in the early 90s with the idea that it would eventually become a comicbook, but it never did. Then one day we were discussing steampunk with Ethan Somerville and we mentioned that we had a steampunk western. Ethan was instantly interested. And so the collaboration began on "Weird Wild West", not as a comic, but as a novel. We have already written seven books in the series and are currently working on the eighth.
"Weird Wild West Part 3 The Freaks of Mojo County" is scheduled to be published in 2019 by Bizarro Pulp Press. Part 3 is based on one of our earlier comic books called "The Spazmos of Mojo County". It is an off-beat story set in an orphanage which is perched on the edge of a crater and where strange experiments are conducted creating sideshow freaks, mutants and monsters.
As far as, creating a "prodigious amount of product" is concerned, we have been working as a creative team for over 25 years. Having two members in the team is conducive to producing more. We provide moral support to each other and inspire each other, and have even tried to competitively out-gross each other by producing extremo art!
When one is struggling with something they can reach out to the other for help, or get another opinion or advice. We also collaborate with others such as Pete Correy on "Mister Idealize" and Ethan Somerville on "Weird Wild West".
All of this helps us to keep on producing. But we always feel that we are not producing enough. We find that the more ideas we produce, the more ideas we come up with. We have so many ideas we don't have time to do them all. There is definitely no time for kittens and flowers!
Visit https://www.weirdwildart.com/ to see more from this amazing team. Their books are available for purchase NOW on Amazon.com!