New Products Released On: Apr 3 Apr 10 Apr 17 Apr 24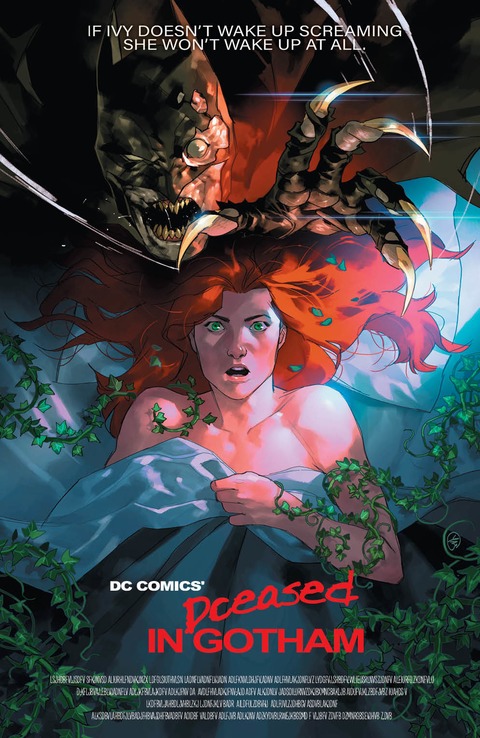 Dceased #2 (Horror Variant)
Just announced! This Nightmare on Elm Street homage variant for Dceased #2, drawn by Yasmin Putri, is a must-own variant that you'll want for your collection! We've read the first issue of Dceased #1 and trust us, this is one series you do. not. want. to. miss. Brought to you by the creative team of Tom Taylor, Trevor Hairsine and Stefano Guadiano! Check out the synopsis below!
"Millions are dying every minute. Heroes and villains alike are falling. Can the Justice League unite to find a way to stop the spread of death? Can they save humanity from extinction? Can they even save themselves? The key to survival may hinge on the last moments of one of the World's Finest Heroes."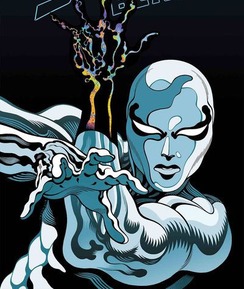 Silver Surfer Black (#1 of 5)
From superstars Donny Cates (VENOM, GUARDIANS OF THE GALAXY) and Tradd Moore (ALL-NEW GHOST RIDER, VENOM)! Spinning out of GUARDIANS OF THE GALAXY #1, almost the entire galaxy's defenders have been blown through a black hole, including the Silver Surfer! But the story doesn't end there… In order to fight back the oblivion, Surfer will have to fight to save his own soul and not lose himself to the void. Follow the Sentinel of the Spaceways on a journey that will change him forever!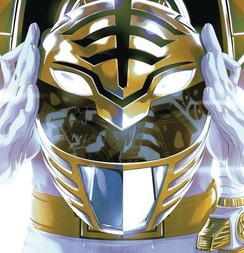 Power Rangers #40 The Power Rangers comic book event of 2019 begins here with the first appearance of the fan favorite White Ranger! What happened to the universe after the defeat of Lord Drakkon, and what do our Rangers remember? This year's Power Rangers event, Necessary Evil, changes what you think you know about the Power Rangers with a reveal that will have everyone talking!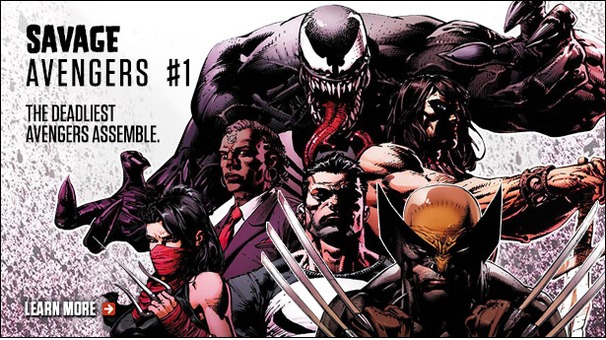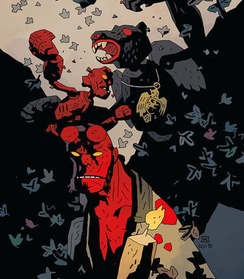 Hellboy and the B.P.R.D.: The Beast of Vargu (One-Shot)
Mike Mignola and fan-favorite artist Duncan Fegredo reunite in this all-new one-shot!
This first issue in a new era of Hellboy and the B.P.R.D. sees Mignola and Fegredo send Hellboy to Romania for a pair of tales set in a small village with a centuries-old curse and a man-eating monster which culminate in a sinister puppet show and a demigod's ill-fated dinner.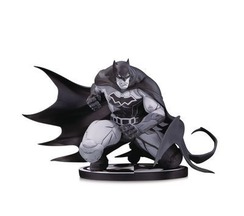 Batman Black & White Statue by Joe Madureira
Straight from the variant cover of JUSTICE LEAGUE: REBIRTH #1 comes Batman by Joe Madureira, in a powerful stance, ready for action.
This statue, all sculpted into 3-D form by Paul Harding, features Madureira's bold lines and graphic character design!
Limited to 5,000 pieces and individually numbered!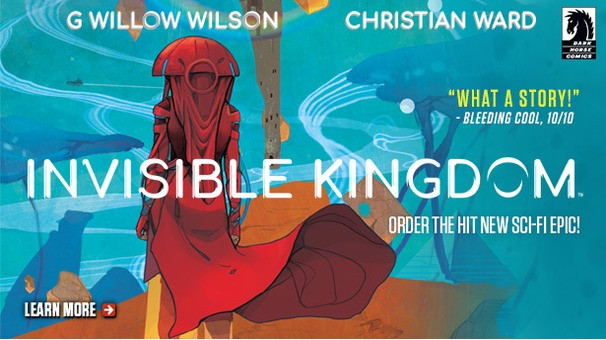 This Week's Hot New Releases
Apparel
Invader Zim Battle Ready Gir Pin $8.99
Comics
Atomic Robo & Dawn of New Era #4 (of 5) (Cover A – Wegener) $3.59
Atomic Robo & Dawn of New Era #4 (of 5) (Cover B – Pinto) $3.59
Betty & Veronica #4 (of 5) (Cover B – Charm) $3.59
Betty & Veronica #4 (of 5) (Cover C – Luppaccino) $3.59
Betty & Veronica Friends Forever Pets $2.69
Black Hammer '45: From the World of Black Hammer #2 $3.59
Black Hammer '45: From the World of Black Hammer #2 (Glenn Fabry Variant Cover) $3.59
Bronze Age Boogie #1 $3.59
Captain America #6 (2nd Printing) $3.59
Captain America #9 $3.59
Champions #4 $3.59
Conan the Barbarian #5 $3.59
Conan the Barbarian #5 (Guice Asgardian Variant) $3.59
Crossover $3.59
Curse Words Spring Has Sprung Spec (Cover A – Browne) $3.59
Dead Kings #4 $3.59
Deadpool #11 $3.59
Deathstroke #42 Terminus Agenda $3.59
Disney Frozen: Reunion Road #2 $3.59
Disney Frozen: Reunion Road #2 (Carlotta Dicataldo Variant Cover) $3.59
Domino Hotshots #2 (of 5) $3.59
Dreaming #8 $3.59
Eclipse #14 $3.59
Fathom Vol 7 #8 (Cover A – Oum) $3.59
Fathom Vol 7 #8 (Cover B – Tran) $3.59
Fathom Vol 7 #8 12 Copy Oum Inc Cover $7.19
Female Furies #3 (of 6) $3.59
Gasolina #17 $3.59
Giant Days #49 $3.59
Giantkillers (Cover A – Sears) $7.19
Girl in the Bay #3 $3.59
Green Lantern #6 $3.59
Green Lantern #6 (Parillo Variant) $3.59
Hack Slash vs Chaos #4 (Cover B – Cermak) $3.59
Halo: Lone Wolf #4 $3.59
Harley Quinn #60 $3.59
Impossible Inc #5 (of 5) $3.59
Justice League #21 $3.59
Justice League #21 (Lee Variant) $3.59
Lightstep #5 $3.59
Lodger #4 $3.59
Magic the Gathering Chandra #2 Tolibao Cover $3.59
Mega Man Mastermix #4 (Cover A – Ariga) $7.19
Mirror #10 $5.39
Monster Sized Chilling Adventures of Sabrina #1 $7.19
Msh Adventures Spider-Man Web Designers #1 $3.59
Night Moves #4 (of 5) Burnham $3.59
Oberon #3 $3.59
One Dollar Debut Divinity #1 $0.90
Paper Girls #27 $3.59
Punisher #10 $3.59
Red Sonja #3 (Cover A – Conner) $3.59
Red Sonja #3 (Cover B – Linsner) $3.59
Red Sonja #3 (Cover C – Ward) $3.59
Redlands #12 $3.59
Robotech #19 (Cover A – Quah) $3.59
Robotech #19 (Cover B – Action Figure Variant) $3.59
Robotech #19 (Cover C – Sdf1) $3.59
Rockos Modern Afterlife #1 Main Cover $3.59
Section Zero #1 (of 6) (Cover C – Ordway) $3.59
Self Made #5 $3.59
Six Million Dollar Man #2 (Cover C – Magana) $3.59
Spider-Gwen Ghost Spider #7 $3.59
Star Wars #64 $3.59
Star Wars Solo Adaptation #7 (of 7) $3.59
Stiletto #1 (of 3) Officer Down $5.39
Tom Clancy's The Division: Extremis Malis #3 $3.59
Uncanny X-Men #15 $3.59
Uncanny X-Men #15 (Shalvey Character Variant) $3.59
Uncanny X-Men #15 (Zircher Asgardian Variant) $3.59
Uncle Scrooge #43 Mazzarello $3.59
Vampblade Season 3 #11 (Cover C – Stanley) $4.49
Vampblade Season 3 #11 (Cover D – Stanley Risque) $4.49
Vampblade Season 3 #11 (Cover F – Mendoza Risque) $4.49
Vampblade Season 3 #11 Cover A $4.49
Van Helsing Sword of Heaven #6 (of 6) (Cover A – Chen) $3.59
Van Helsing Sword of Heaven #6 (of 6) (Cover B – Vitorino) $3.59
Van Helsing Sword of Heaven #6 (of 6) (Cover C – Reyes) $3.59
Van Helsing Sword of Heaven #6 (of 6) (Cover D – Tolibao) $3.59
Vindication #3 (of 4) $3.59
Walking Dead #190 $3.59
War of Realms #1 (Blank Variant) $5.39
War of Realms #1 (Camuncoli Connecting Realm Variant) $5.39
War of Realms #1 (Hugo Thor Variant) $22.49
War of Realms #1 (International Connecting Variant) $5.39
War of Realms #1 (Quesada Variant) $44.99
War of Realms #1 (Takeda Variant) $44.99
Witcher: Of Flesh and Flame #4 $3.59
Young Justice #4 $3.59
Young Justice #4 (Mora Variant) $3.59
Games
Hellboy Universe Puzzle $17.99
Graphic Novels
Adventure Time TPB Vol 17 $13.49
Avengers Assemble GN TPB Living Legends $8.99
Batman & the Outsiders HC Vol 03 $44.99
Batman Detective Comics TPB Vol 09 Deface the Face $15.29
Conan Chronicles Epic Collection TPB Heart Yag-Kosha $35.99
Disney/PIXAR Toy Story Adventures Volume 1 TPB $9.89
Flash Green Lantern Brave & the Bold Deluxe Ed HC $31.49
Infinity War Omnibus HC $112.50
Justice League by Christopher Priest Deluxe Ed HC $31.49
Kiss Army of Darkness TPB $17.99
League of Extraordinary Gentlemen Jubilee Ed HC $67.50
Marvel Universe TPB the End $17.99
Marvels Avengers TPB Untitled Prelude $13.49
My Little Pony Friendship Is Magic TPB Vol 16 $16.19
Paper Girls Deluxe Ed HC Vol 02 $31.49
Prism Stalker TPB Vol 01 $15.29
Spidey GN TPB Freshman Year $11.69
Superman Action Comics HC Vol 01 Invisible Mafia $22.49
Teen Titans TPB Vol 01 Full Throttle $15.29
Unstoppable Wasp Girl Power GN TPB $11.69
Witchblade TPB Vol 02 $15.29
Ye TPB $17.99
Merchandise
Hellboy Magnet 4-Pack $8.99
Invader Zim Easter Gir Pin $8.99
Statues
Harry Potter Lord Voldemort 8in Polystone Statue $80.00
Toys
Umbrella Academy Puzzle: Apocalypse Suite $17.99