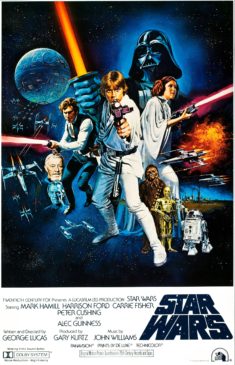 By a strange convergence of planets and alignments of signs in the sky, Saturday, May 4th is poised to be one of the BIGGEST days in comics history!
This year Star Wars Day: May the Fourth Be With You and Free Comic Book Day are on the very same Saturday!
Comic shops everywhere will have a plethora of FREE comics along with their celebration of the 1977 film and its many sequels with a host of iconic, beloved characters that continues to influence generations of fans more than 40 years after its release. Will you be celebrating at your local comic shop this year?
You can find out which shops are participating, what the hottest comics this year will be and locate a comic shop near you at FreeComicBookDay.com. Be sure to take advantage of the promotion on THIS site! If YOU are offering FREE comics on Free Comic Book Day, BE SURE TO POST A LINK TO YOUR COMICS IN THE COMMENTS BELOW.
"May the 4th be with you." What started as pun warmly shared by fans has become a full-fledged Star Wars holiday: Star Wars Day, a special once-a-year celebration of the galaxy far, far away.
One of the earliest known records of "May the 4th" used in popular culture is in 1979, as described here by author Alan Arnold while he was chronicling the making of The Empire Strikes Back for Lucasfilm:
Friday, May 4: "Margaret Thatcher has won the election and become Britain's first woman prime minister. To celebrate their victory her party took a half page of advertising space in the London Evening News. This message, referring to the day of victory, was 'May the Fourth Be With You, Maggie. Congratulations,' further proof of the extent to which Star Wars has influenced us all." –StarWars.com https://www.starwars.com/may-the-4th
While you're scoping out the greatest, hottest comics of the coming summer, take advantage of this special, courtesy of our affiliate comic shop source, Things From Another World! No word yet on what they might offer on Free Comic Book Day, but May the Fourth Be With You will be in full swing! Check the links below for discount deals on All Things Star Wars, along with the coolest comics and graphic novels, collectible statues and toys!
May The Fourth Be With You on Free Comic Book Day: Saturday, May 4, 2019!!