Wayne Howard 3/29/49 – 12/9/07
The achievements of African Americans throughout the course of American history are numerous and varied and are often overlooked. The achievements in the area of comic books are no exception. During the month of February we take the time to highlight these often overlooked achievements, and spotlight the African American who accomplished the momentous feat. Today we shine the spotlight on African American Comic Artist Wayne Howard, who is not only considered one of the first "Masters" of the Horror genre but is the first creator to be credited on the cover of a comic book, and bring his stellar career to the forefront.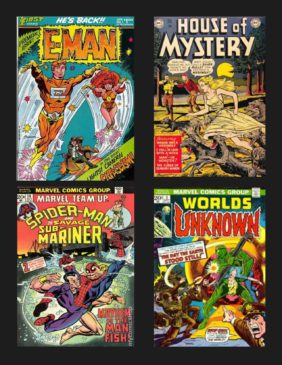 Wayne Howard was born on March 29, 1949 to Sherman and June Howard in Cleveland Ohio. He attended Wesleyan University, located in Middletown, Connecticut, where he graduated with a Bachelor of Arts Degree. In the early to mid sixties Howard began his career contributing in the fanzines; amateur comic book magazines; that were popular then. He mailed in a poem to Marvel which got published in the Fantastic Four #22 issue which is dated Jan 1964. Due to the inclusion of his poem in that comic, the comic's editor declared him the "Poet Laureate of Yancy Street". Howard landed a job with the comic book artist Wally Wood, working out of the Long Island New York studio as an art assistant in 1969. It was in this year that Howard obtained his credited comics debut as a penciler and inker in a three page story with writer Marv Wolfman in DC Comic's House of Mystery #182 in October of that year and later in December for Major Publication's Web of Horror #1 as well as drawing for other titles for DC Comics such as Forbidden Tales of Dark Mansion (1971), Weird War Tales (1972), and Secrets of Haunted House (1975), House of Mystery (Feb-April 1978), as well as drawing for other titles for DC Comics such as Forbidden Tales of Dark Mansion (1971), Weird War Tales (1972), and Secrets of Haunted House (1975), House of Mystery (Feb-April 1978).
In 1972, Howard teamed up again with Nicola Cuti, whom he first worked with on Web of Horror, and who now was a managing editor at Charlton Comics. Howard began freelancing with Charlton, starting with a story in issue #4 of the horror anthology entitled, Ghost Manor, and over the next 5 years went on to pencil/ink 200 covers and stories, for Charlton's horror line of comics for titles such as, Ghostly Haunts, Ghostly Tales, The Many Ghost of Doctor Graves, Monster Hunters, Fighting Marines, Valley of the Dinosaurs, Beyond The Grave, Creepy Things, and  the gothic horror romance anthology, Haunted Love. He teamed with Cuti, contributing to the back-up feature in E-Man #3 (June 1974).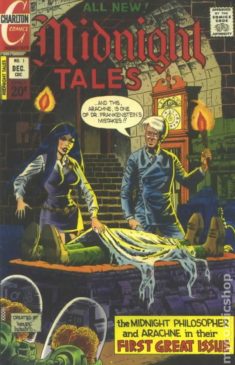 In the midst of doing freelance work for Charlton, Howard was inspired to created his own horror anthology series, Midnight Tales. The series was published bimonthly by Charlton starting in Dec 1972, running for 18 issues until May 1976. The anthology featured two of Howard's most notable creations in the characters of Professor Coffin The Midnight Philosopher and his niece Arachne Coffin. Charlton made an industry first move that set a precedent in comics. Upon publishing Midnight Tales #1, the comic gives Wayne Howard the credit on the cover for being its creator. This was the first time ever a comic credited the creator on the cover. Cuti, who was the editor at the time, is quoted as saying he granted the "created by" credit because as far as Howard was concerned, "it was his idea, his concept, his everything". Howard drew every cover and every story and even wrote a few of the stories himself.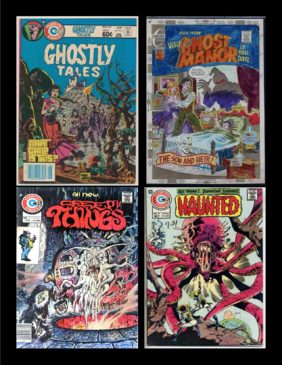 Along with his freelance work for Charlton, Howard did art for various companies. He penciled a story in Gold Key's TV series tie in comic The Twilight Zone #46 (Nov 1972), black and white magazines Creepy and Eerie for Warren Publishing, the science fiction anthology World's Unknown #3 (Sept 1973) in which he inked the cover and did pencils for the story "Farewell to the Master", Gil Kane's Spiderman/Sub Mariner story in Marvel Team-Up #14 (Oct 1973) a feature in Creatures on the Loose #26 (Nov 1973) and a story in the black and white magazine Haunt of Horror #4 (Nov 1974). Howard's last original work was in 1982 on the DC Comics sword and sorcery title Warlord.
Howard left comics and resided in Oxford Connecticut until the time of his death. Howard died at the age of 58 on December 9, 2007.  A look back at his body of work, along with the distinction of being the first comic book creator to be named on the cover of a comic book, has gone a long way in helping Howard in earning the reputation of being one of the most prolific black artists in the horror genre.