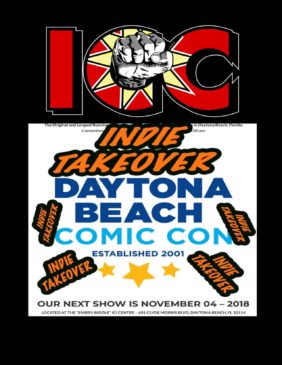 On Sunday November 4th , the Daytona Beach Comic Con, featuring the Indie Takeover happened and ICC was well represented. Panels for the Indie takeover included; Diversity and Sexual Equality in Comics, Comics in the Classroom, and How to Create, Brand, and Promote Comics in 2018.
ICC members Alfred Paige and Dorphise Jean, as well as ICC/ICC Anthologies Moderator Marcus Roberts and ICC Founder and President Terance Baker got things started with the Diversity panel, and following that, Marcus and ICC members Travis Gibb and David Byrne took part in the Comics in the Classroom panel hosted by Nicole M Jobin, with special guest International Show Host Marc B. Lee.
All panel guests took part in the final panel of the day, which focused on discussing the ins and outs of creating comics, advice from each panel member, as well as the panel members relating their own personal journey into creating comics. The Indie Takeover was sponsored by Indie Advocates and hosted by Rob Andersin and broadcast live by Charboil & El Bandito's Power Hour of Love!
---
Charboil & El Bandito's Power Hour of Love!