Time: Understand that that you have to separate the time factor of what you can actually do here in your life, you have to realize with this example I will show you today that your time here on this planet is limited; you have to be able to put out within reason as much art as you can. When you lose focus, you need to look at who or what inspires you and ask yourself why they inspire you. Let's call the artist with this block… Joe Artist. Let's say for time's sake Joe Artist lives to be 70 years old. Let's also assume that we as human beings will sleep for half of our lives, so that means that Joe will have 30.5 years to be able to draw and contribute to the world of art in his life cycle. Add in the factors that Joe may get married, have a family, and everything else that comes with that, add all those additional factors in Joe's life — he's reduced to an actual potential of 15 years to actually contribute to this world artwise, and that is a stretch. The moral is you don't have time to catch artist block, you simply need to implement and accept the time factor that you actually have, you don't have much time to draw, paint and sketch as you think you do…life happens my friends, utilize your time wisely. Every drawing, every doodle, every sketch counts and when it's done it can influence someone somewhere even if you don't think so. Me, I draw all the time within reason, here are some examples: if we go out to dinner, 8 out of 10 times I'm drawing on the napkin afterwards, I draw on vacation, I draw on my breaks at work in my car. In a drive thru the cashier saw my drawing on a clip board and loved it, a seasoned artist understands the importance and relevance of time and realizes you don't have time to waste.
Every drawing, every doodle, every sketch counts and when it's done it can influence someone somewhere even if you don't think so. Me, I draw all the time within reason.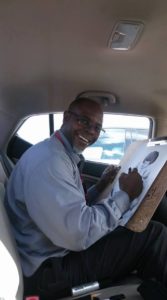 2. Development and the rewards: Let's cut thru the butter and sugarcoating, the ultimate reward for any skill is to get paid for it! You need to become good enough so that people pay you for your art, pay you for your skills! You can't do that if you get artist block, you need to develop yourself and become a better artist! I recently told someone this on Facebook, and out of 30 responses he loved my answer! Technically you should be progressing a little bit at a time! If you are sitting there scratching your head and wondering what to do next, then you need to be developing and set s goal for yourself and no one else!!!!
Create and surround! You need to surround yourself with a library of inspiration, (repeat) so if you do feel that block monster creeping up on you go to your inspiration area and beat him! Change your routine! Stimulate your creative genius! Get inspired by people and events in your chosen genre of art! There's is a physical aspect of it too: your health!! Eat better, work out, better yourself physically, get in better shape, drawing is something you need to be in good physical health for because it can endure long hours, your body needs to be able to handle it! Don't try to create something when you're exhausted, you need to be able to do this with energy, take a break if you have to, step away for whatever time period you need to recuperate yourself! If you need rest get it! Finally, don't compare yourself to other artists! Don't over think this, make it fun and productive for yourself first and foremost and then reap the rewards of your passion! If none of that works for you then lastly do this, go talk to someone much older than you, preferably a senior citizen, friend or stranger about their life and I promise you some of that conversation will be about the things they wished they had done when they were younger and had a chance to……… that my friends is how you beat artist block!! Thank you for your time!