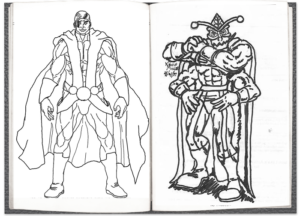 ATTENTION ICCers!! We have a chance to do something great as a group. We get the chance to make a coloring book for the children of the hurricanes. We need to make a 52 page coloring book for them. We will have to make a good & simple B&W pen drawing of ICC / your character(s). We have to have them all done & in by Tuesday September 19th, 2017.
THIS IS AN OFFICIAL WEEKLY ARTIST CHALLENGE! THIS IS IMPORTANT! ALL PROCEEDS GO TO THE RELIEF FUNDS!
Have fun. —Kevin Miller, ICC Weekly Artist Challenge Coordinator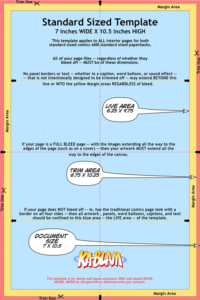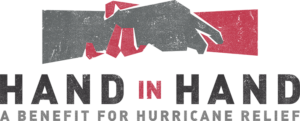 Notes from Pam Harrison, Editor: All proceeds from this coloring book will be donated to Hand in Hand: A Benefit For Hurricane Relief. Let the kids know heroes are looking out for them, real and fictional. Screenshots of sales and a fundraising thermometer can be added, and sales can be verified through IndyPlanet.com to be sure proceeds are going where they are supposed to go.
After December 31, 2017, this fundraiser will be discontinued, and rights refer back to the contributing artists! Selected artists for the ICC Coloring Book, ICC Magazine or other projects, in order to participate, need to set up their account at Ka-Blam.com and supply me with their username so they are eligible for royalties from the sale of the comics. Contributors to ICC projects get a percentage of the comic sale price as royalty. Five contributors = Each contributor gets 20% of the $5.99 comic price. That might sound like peanuts, but it adds up. The series is published through Ka-Blam Digital Printing, and each contributor receives a percentage of profit for their work, as well as the ability to order as many issues as they like at print cost plus shipping, to promote and sell their work and keep the proceeds. Please refer to Frequently Asked Questions at the bottom of this page.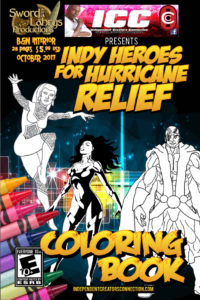 We will be using the Standard Size Template from Ka-Blam Digital Comics. This will also be an ICC Showcase of our best work so put your best page up for submission. If we get more than 52 submissions we will have to judge which pieces get submitted, so put your very best work together! We will also need a Forward page, a message from all of us, as well as a full-color cover.
The Rules:

You may not use copyrighted characters from other companies.
You may not use characters that are not yours. If, however, you are part of a writing/illustrating team, both signatures and information need to be on the work.
IMPORTANT!

Need your name on your hero or heroine coloring page, along with the hero or heroine's name and your website or link to your comics so that we can properly promote your work.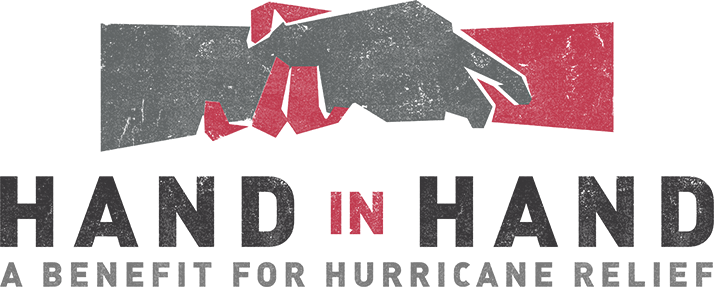 FREQUENTLY ASKED QUESTIONS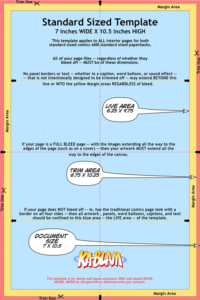 Q: How does this anthology/magazine/coloring book project work?
A: First: You must set up a Ka-Blam account at Ka-Blam.com. You will also need your own Paypal account so that you can get paid for sales of each comic you collaborate on.
Q: How do I submit my artwork?
A: Just upload the file via email. Completed pages must be emailed to Pam Harrison (click my name to activate your email) for inclusion in this coloring book. The link on my name opens your email client. Choose the email account you want to send your message and file from, then Insert or Attach Image to send the file to me. For large files, if they do not send through email, contact me and I will send you a DropBox link to place your file into. If you post directly to the ICC Facebook page instead of following the guidelines, your work MAY NOT BE CONSIDERED.
REPEAT: If you DO NOT follow directions, and your submission is NOT in my email inbox, it will NOT make it into the book.
I can not accept photos posted to the Facebook announcement. It downgrades the quality of your artwork and I want your best!!!
Examples from other anthologies I have been Editor of:
The incentive for contributors to promote this series is high, and has potential to be a life-changing work for many people from all walks of life. It also creates incentive for all contributors to promote their efforts, and the side effect of that is that our stories reach kids who need them most. Promote your comic to schools, youth groups, churches, your local comic shops, anywhere you can make a difference. You will be able to personally order the coloring books at print cost, sell them and keep all the profits!
When you give comic shops, bookstores or resellers your link, they will see on the product page: Order 5 copies or more and get 25% off on this book! Great deal for re-sellers! (Discount shows up at checkout.)
Q: How many submissions do you want? Is there a specific comic size or template we should use?
A: Submissions will be limited to five. Depending on space, that might sometimes vary. Page size is 7 x 10.5, and you can download the comic page template from Ka-blam.com for your use Ka-Blam Comic Templates.
Q: Can I use my contributed artwork to promote this comic?
A: Absolutely. This project is all about the contributing artists. I set up an artists gallery in each issue with your story and photo, I don't own the rights to anyone's art or stories, so you are free to promote or republish them anywhere, forever on.
---




Item: Voices Against Bullying #1 (92623/8350)
Item Type: Standard Comic
Printing Cost: $2.67
Total Sales: $****
Total Copies Sold: ****
Price: $3.99
Copies Sold: ****
Sales: $****
Profit per Sale: $0.26
Actual: $1.32 – 20% split
(on current sale price)
Ka-Blam.com Ka-Blam Printing Template