I spent some time with this one… spent the whole week reading it….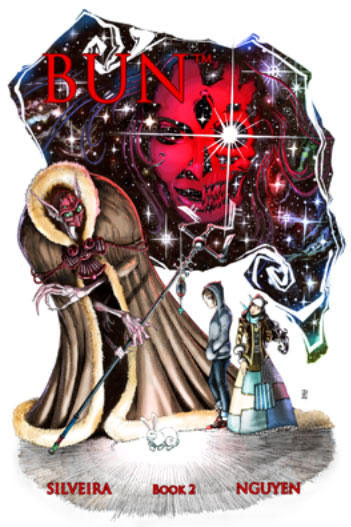 BUN
by Brian Silveira and Lisa Nguyen.
Right away…the awesome art, just BLEW me away. This comic is VERY well drawn. Took me a while to get into the story…but when I did…just fantastic.
Without giving away the plot (which I try NOT to do!!!) –go there and read it! If I tell you EVERY friggin thing…you say…ok…I got it…and won't visit the comic!
A boy is given a pet rabbit by his mother. Bun. Later on, unfortunately, he loses his mother…and his father slips into darkness…
Heh heh heh…think by me telling you that…you got the story down, right? You think this kid becomes a juvenile delinquent, with a pet rabbit keeping him sane? OR…He becomes a Super Hero…with Bun as his side kick?
WRONG! Guess again.
Brian Silveira and Lisa Nguyen take us on a journey into an awesome fantasy world…with beasts! And…wild bird like animals that are ridden ! Evil…fantasy! With the kid…and interestingly, BUN…right in the thick of it.
His dad is looking for him…wondering where he is…. I the reader, wonder too, how did he get here? Why? And…that rabbit…Bun…is ALWAYS there…interesting…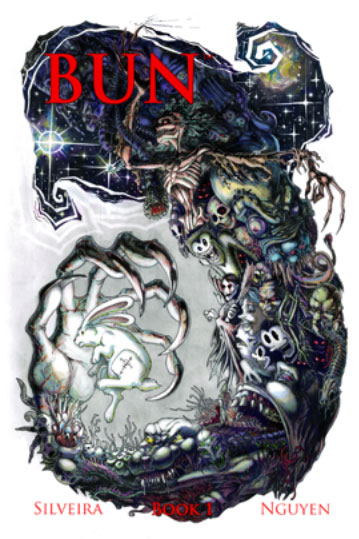 Let me tell you, and I say this a LOT. This is why I read independent comics. NEW, interesting stories. And that's what Bun is.
You will drool at the absolutely awesome art.
You will fear the monsters (it's Brian Silveira's fault you will fear them…he drew them very well!)
You will ask…How did this kid…get caught up in the middle of this fantasy world? HOW the hell does he get out? OMG…WILL he get out? Get back home..to his dad? Is BUN…his pet…the REASON he is there?
Read Bun to find out! I ain't telling.
Bun is available to read online. It is also in print. Go check out this wonderful series. Currently book one and two are available to read online…and available in print form to buy.
What? You're STILL here? Go read BUN!!!!