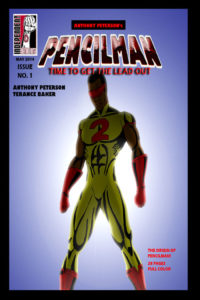 Today I rant….about my idol…the man I wish I was….PENCILMAN!!!
ok, seriously. I want to rant about PencilMan issue one. Written by Anthony Peterson.
Art by Terance Baker.
This is why I read mostly indy-comics these days. Because you run into stuff like this! If you are a member of ICC's facebook group, you know who Anthony Peterson is already(and you BETTER know who Terance Baker is…if you don't…you need help. He only is the one that is responsible for this site being  around. )
I have followed, and liked Anthony Peterson for a long time. He has a video series where he talks about ICC, the comics he likes, as well as his projects. His personality, and sense of humor just POPS out of his videos. an amazing, and creative man.
ok…on to what I am here for…PENCILMAN! I loved the concept…before I even got the book.
18 year old Raymond Grant…smart, cool, athletic,(I'm jealous ALREADY!)
he has ALL that going on…and what does he DO? same thing a lot of young people do…get caught up in that damn street life!!! kid gets mixed up with a gang called Red Devils. Smart….can get a damn sports scholarship…THIS guy wants the streets(Bet we ALL know a few young people like this, right?)
Then…things change…his pops is dying inthe hospital(yes! he isnt no guy that grew up with a hard life…he has his mom and dad…and STILL gets the young and stupid I gotta have the streets mentality)
after having a heart to heart with his pops…Raymond decides to get out of the gang.
yeah…right…you dont just leave a gang…but Ray gives it a go.
they beat that kid near death(well…you TRIED, Ray.) During the beating, a gang member shoves a piece of a graphite meteor that had crashed earlier right down Ray's throat.
That meteor…changes him…into PencilMan.(is that a cool origin…or WHAT?)
What I tell you about WHY I read indy comics? You get NEW, Fresh ideas like THIS!!!! none of that constant ret-con crap Marvel and DC keep doing!!!!! we get some GOOD friggin stories! And thats what PencilMan is. a great new Hero….great concept….good story of how a young man…headed for trouble…turns his life around and becomes a HERO! I love it…and to make me love it more…we get great art from ICC founder Terance Baker!!!
I look forward to more issues of PencilMan. If you follow the ICC facebook group…Anthony Peterson has some fearsome villains lined up down the road that is going to keep PencilMan REAL busy…and us readers wondering if Pencilman is going to survive some of these madmen!  Anthony Peterson also has a slew of other characters I look forward to seeing more of. a VERY talented writer.
PenciL man one….great new hero…with a compelling story to go with him.
exciting action packed art by Terance Baker.
You need to have this  in your collection. You cant have MINE!!!!
http://www.indyplanet.us/product/109920/