MUHAHAHAAAAAAA! The JAY is UNLEASHED AGAIN!!!!
This time I rant(or review…whatever you wanna call it…I prefer to say RANT!)
about a fun new new release by Molly Whipple….Lucky Lucy (issue one)
Molly Whipple describes Luck Lucy as follows…
"After a pampered early life Lucy's father died. Orphan Lucy ran off to join the circus where she learned a lot about the school of hard knocks as well a lot of special skills, both good and bad. "Lucky" Lucy Tilton isn't just an acrobat and escape artiste extraordinaire, she's secretly the thief better known as "Mouse."
Nice thing…she's an escape artist…BAD thing…Baby girl is ALSO a thief! A thief who doesnt know when to quit, it seems.
Ms. Whipple is a writer of many fun comics series, all of her books are cool…what happens in ONE…leads to the next title…such as the case with her latest release….Lucky Lucy ! The action for Lucy continues from Dark Domme issue two, where good ol Lucy here was caught pick pocketing guests at the Dark Domme's party. (Molly's number one bad girl…now…this chick is world re known for being some one NOT to mess with…why the hell would you go to her party…of ALL people…and start picking pockets? Only Lucy would think she could do that crap, and get away with it…)her little butt was caught ,and  made into a friggin slave! At the end of that book…Looked liked Lucy's goose was friggin COOKED!!!!
HOLD ON DUDE!   Enter…Lucky Lucy one! That picks up where Domme two left off…Good ol Possum(another of Molly's nefarious characters…Molly refers to him as the ultimate bastard…after following him in Molly's various books…I agree with that…the Bastid!) Dumps  Lucky Lucy into a swamp(LUCKY? being dumped in a swamp…is lucky? ummm…well…depends on your point of view I guess…) How did she get into that predicament, you ask? HEY! I cant tell you EVERYTHING!!!! You have to get Dark Domme one ,and two to see for your selves! Trust me…its fun reading.
WELL!!!!  I'll be a  biscuit on a plate with gravy…she IS Lucky after all..baby girl survives that near death experience…and she's  more mad than a hive of bees with a bear's paw sticking in it!  Lucy decides…"ok…OK! I WANT PAY BACK!!!!!!!! "And Lucy goes on the ultimate pay back mission..Baby girl made a list…and shes getting them back! If your name is on her list…well…um…sucks to be YOU
Molly delivers with this new offering what she ALWAYS delivers in her various series…
Great, fun, story telling…
Loaded with both action and humor
oh! and some nice NSFW content(BOOBS dude! you were warned!)
not to mention some AWESOME art work from Piotr Czaplarski. fantastic art all the way through this fun
action fest.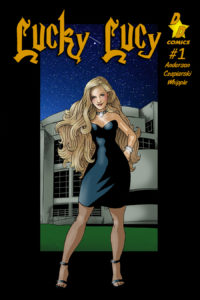 I have been a fan of Molly Whipple's work for a long time. and I have all of her various books. This latest offering is one of her BEST in my humble opinion. If you like fun, action stories, you need to check this one out. Lucky Lucy is a fun character, and its great watching her get into trouble, and wondering if she can get out of the mess she made for herself.
If you want the WHOLE story…also get Dark Domme 1&2….you dont NEED them to enjoy Lucky Lucy 1…but you see what little mouse did to get into the mess that led to Lucky Lucy 1….
either way…Lucky Lucy 1 is a book you need to read!!!! get it…GET IT!!!!!
Molly Whipple's  Books are available at drivethru comics
http://www.drivethrucomics.com/product/213126/Lucky-Lucy-1
If you have a Deviant Art account…check out her page at deviant art! keep up to date of her next project(shes got a LOT of fun stuff coming! STAY Informed!) her page is loaded with her characters, humor, all kinds of fun stuff!
http://chickfighter.deviantart.com/
her awesome artist for Lucky Lucy1…Piotr Czaplarski, has a Deviant art page as well…if you have an account there  you can see more of his work
http://peter-the-tomato.deviantart.com/