Dragon Trio.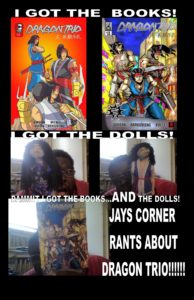 The Jay is BACK! YES!!!! with a rant about another series that you (Yes…YOU!) should be reading…….by Winston Jordon (Ink Pot Comics).
An evil organization called the Black Dragon  is reigning terror and trying to control everything…In their way? Three vigilantes called The Dragon Trio.
This is another of those series that grabbed me right from the beginning, when its creator, Winston Jordon (um…you DO know who Winston Jordon IS…don't you? He's been a main stay at the ICC Facebook page for years…posting his fantastic art!!! he's also one of this website's editors!). Why did this series grab me? Intelligent writing. well defined characters. Martial arts intrigue and action!!!
This series has it all. I am an Old Schooler…I always followed Martial arts movies that not only had action…but were well written. Like Bruce Lee's Enter the Dragon… Dragon Trio is right up there as far as I am concerned. you got characters you care about, and want to follow…can the Trio brothers put an end to The Black Dragon crime empire? heh…let me tell you…I been here since issue one, folks…It isn't going to be easy. get the books…you'll see what I mean…one MAIN reason it wont be easy? The Black Dragon captain…Midora.
Midora is a mysterious assassin of Chinese descent…who the other Japanese crime captains don't like…heh…well…I wont tell you HOW…but they respect her pretty damned quick…Midora is a bad ass lady…ok?  I fell in love with her right from the beginning…Winston's action pack art has her kicking ass and taking names. and she isn't nice about it (OMG I love this chick…she's who she is…and she isn't apologizing for it!!!!)
Midora has become a very popular character on the ICC Facebook site… tons of folks have posted fan art about her on the FB page…what does that tell you? That this series is a must read….that the characters and writing PULL you right in!!!! I sit on the edge of my seat…waiting for the next Dragon Trio series news…so I can go grab the newest issue soon as it's available!!!!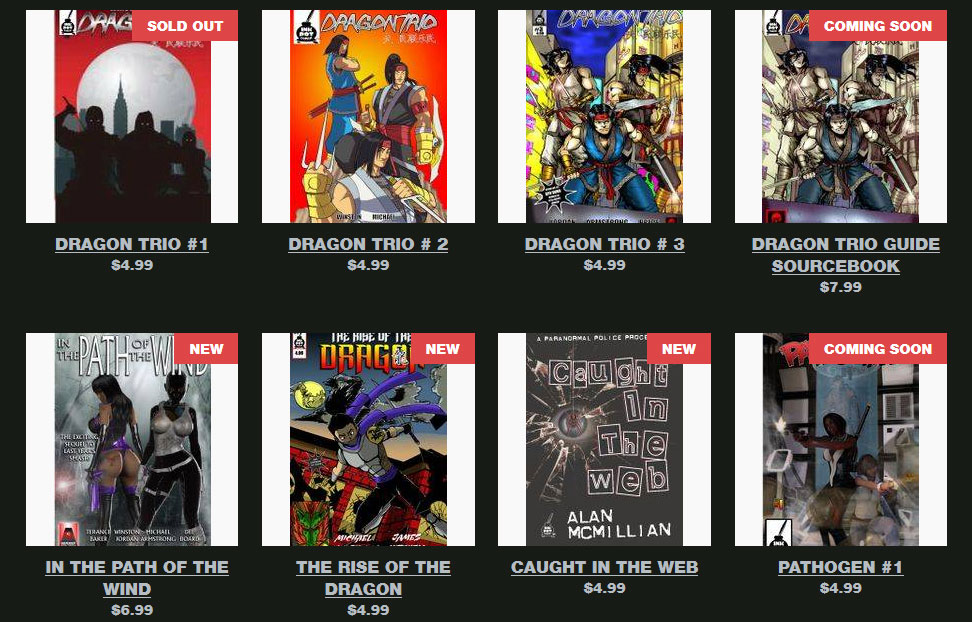 Midora has branched out…into two action packed spin off books….The Wind and the Wolf…where she meets and battles another  badass ICC woman…NightWolf. (YES…I have that one too. that book is a LESSON in drawing fight scenes, ok? not to mention yet another compelling story)
You probably want want me to spill on the details of each issue…well…I think I did…
Great compelling crime drama…
Well defined characters….
Fantastic action….
Great art all the way through (courtesy of Winston Jordon)
If I tell you TOO much…you wont buy it! I got my copies…YOU GO GET YOURS!!!!!!!!
I am a big fan. I even have dolls of the Three Dragon Trio Brothers, and Midora.
Seriously…if you're not following this…you are missing out on a fantastic series. Get it.
The Character Midora ALONE is enough reason to follow this…and NOT just because she's sexy…this woman…is just dope. So dope she even branched out into a spin off book.
Dragon Trio is available at Ink Pot Comics
https://www.facebook.com/inkpotcomix/
(Ink Pot's FaceBook pg)
http://inkpotcomix.webs.com/    (Ink Pot's website)
Go there! Get those Books…it's one of the best series…you're not reading…
If you do read it…I  bow before you…um…I call dibs on Midora….I was her fan first.