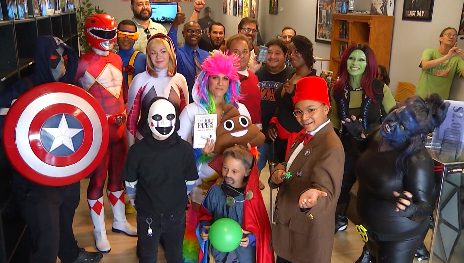 COCOA — 
If you've ever wanted to become an honest-to-goodness comic book artist, you might get your inspiration on the Space Coast this weekend.
ICCON: July 1 at Space Coast Convention Center
Founded by comic book artist Terance Baker
Admission is $5
Independent Creators Connection is putting on its 3rd ICCON this Saturday at the Space Coast Convention Center in Cocoa.
"We are a big family," said ICCON founder and comic artist Terance Baker. "Ever since I created that group, it has just grown, from 25 people to over 7,500 people now. And it's not slowing down."
He's organizing this – as a hobby.
"I, myself, am retired military," he said. "My wife was in the military. We both have regular day jobs."
Baker demoed a sketch of Superman during our "sneak peek" visit this week. He can pretty much draw anything, so if you're into that kind of thing, he's the guy with the brain to pick at ICCON.
For the fans of geekdom, a big part of this convention is acceptance.
"It doesn't matter size, shape color – you know – what you do, who you are, where you come from," said Baker's wife.
Mark Newport has had his Captain Kirk costume for 15 years, something that has given him comfort.
"I ended up being an only child and legally blind," he said. "I was bullied a lot at school and I looked at "Star Trek" as uplifting."
ICCON is July 1 from 10 – 6 p.m. at 301 Tucker Lane in Cocoa.
Admission is $5.
Here's the schedule, at a glance:
10 – 10:30 a.m.
ICCON3 Starts
Speaker: Terance Baker
Venue: Space Coast Convention Center
11 a.m. – 12 p.m.
Corset Class
Speaker: Rebecca McGillicutty
Venue: Panel Room 1
12 – 1 p.m.
Community Building through Short Films
Speaker: Negative Normal
Venue: Panel Room 1
12 – 1 p.m.
DR Who Panel!!!
Speaker:
Venue: Panel Room 2
1 – 3 p.m.
Body Painting
Speaker: Rebecca McGillicutty
Venue: Panel Room 1
1 – 2 p.m.
CosPlay 101
Speaker: FLCA
Venue: Panel Room 2
2 – 3 p.m.
Pod Cast Panel
Speaker:
Venue: Panel Room 2
3 – 4 p.m.
Digital D&D: Table topping today
Speaker: Drake Austin
Venue: Panel Room 2
4 – 5 p.m.
CosPlay Contest
Speaker:
Venue: Outside Stage
For more information about ICCON, click here.