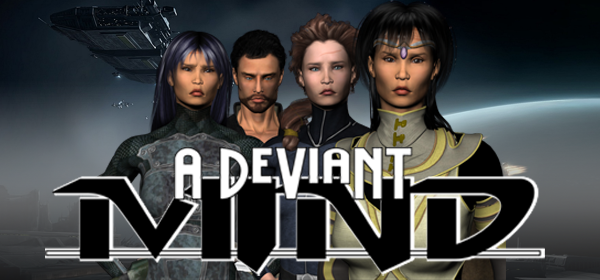 Hey!!!! The Jay is back!!! TOLD YA I'd be ranting! I figured that before Terance Baker and Pam Harrison realized they made a mistake having me be an editor here, I better post some rants before they toss me out(heh heh heh….if they toss me…my rants will live FOREVER in cyberspace….MUHAHAHAAAAAAAAA)
Um…ok… I will be ranting here about a lot of good  webcomics and books I am crazy about. A Deviant Mind is going to be one of those series.
A Deviant Mind  is a Sci Fi series, created by Pam Harrison. (If you visit this site, and dont know who Pam is…I am gonna kick your ass. Just look around this site, ok? Hell she friggin designed this site!
I have followed this series from the beginning. It is a web series, and also has 35 printed books to date.(And I am proud to say I have EVERY printed issue)
It's about Tara, a woman who awakens, with no memory of who she is, where shes from, and how she got where she is…and she goes on a journey to find her self. As her journey continues…the real Tara may not be such a nice person, as that sweet girl with no memory who awakens.
I will be talking about various issues of this great series…the writing, the characters, grabbed me right from the very beginning…soon as I saw her first page of this series on Drunk Duck website…I knew this was going to be good…I wasn't disappointed.
fabulous art.
terrific characters .
compelling story
action!
this series has it all. and ,as I talk about various issues, you'll see why it will part of my regular rants. look up of review of issue 19,I wrote it in 2014. (which I still say today….issue 19 of this series, is a MUST have, for folks who like reading great comic stories. this issue is a stand alone classic)
If you're not following this series on the web, or you don't have any of Pam's books…damn. you don't know what a great read you are missing out on. Don't do this to your self.  Her ad for A Deviant  Mind is on this site. click on that. Read this series…and I mean READ it. Just don't  just look  at it, and ooooo, and ah, at the pretty pictures. Read it. Let Pam take you into the world of Tara…follow Tara on her journey…meet the characters, of one of the best series you're not reading…and then…kick your self ,for not reading this  series sooner. HEH! I don't have to kick myself. I've been there, following A Deviant Mind,  from the very beginning.
Heh heh heh…TOLD ya I was gonna rant…its what I do when I'm stoked about a series.