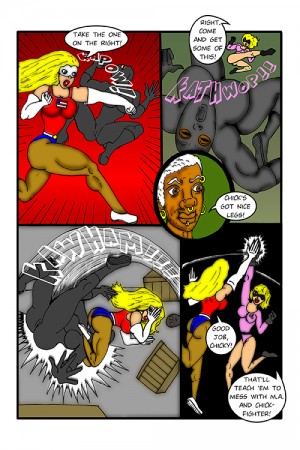 Possum is his codename. When someone like the government or the mob has a job they can't do themselves they call Possum. Some say he's a self-centered bastard. Some say he's a badass. Some say he's just greedy. It's a good thing. Those who hire Possum can be sure that the job will get done because "good ol' Possum always gets paid!"
For a number of years I've been familiar with the work of Jerrie Lee from his numerous webcomics: Anthology of Anfer, Jay's Internet Fight Club, Neva Knownes, Pate Empire and now Lee's Intergalactic Fighting League. Jay's hilarious humor and Not Safe For Work fight scenes have taken the scene of women's wrestling to all-new heights.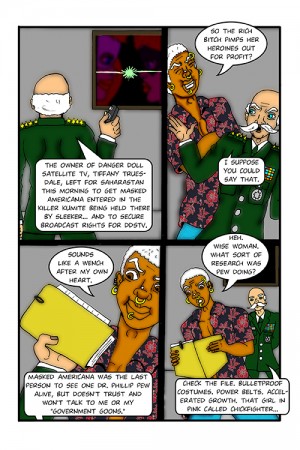 His work as an artist underwent an evolution with the debut of Lee's Intergalactic Fighting League: the fighters have more clothes on, sure, but the writing, dialogue and plot have come a long way. When I learned that Jerrie Lee had finally made his debut into print with Playin' Possum #1, I had to grab a copy for myself. I was not disappointed. I got such a kick out of the storytelling and graphics, which really meshed totally well–I couldn't quit smiling.
Possum receives a complicated assignment from General Thicke that involves playing three dangerous and intriguing masked women, Sleeker, Masked Americana and Chickfighter, against each other to recover a stolen flash drive. His first move is to attempt to kidnap DDSTV executive Tiffany Truesdale as bait to force Masked Americana to enter Sleeker's Killer Kumite.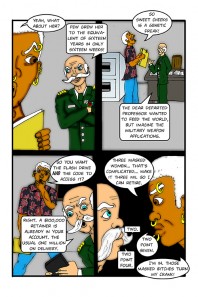 Of course even the best plans seldom survive first contact with one's foes. Who's playing who? The adventure begins, and boobs and bruises abound as we follow the women's attempts to outdo and beat the snot out of each other in the process. Illustrated in true Jerrie Lee style, the action never lets up until the surprise ending. Now I'm left waiting for Playin' Possum #2! Jerrie? Where is it, Jerrie…I need it Jerrie…I know you can hear me! Jerrie!!
Check out more of Jerrie's work at http://jalsactionbabecomics.com/
– Get Playin' Possum #1 NOW at IndyPlanet.com!!